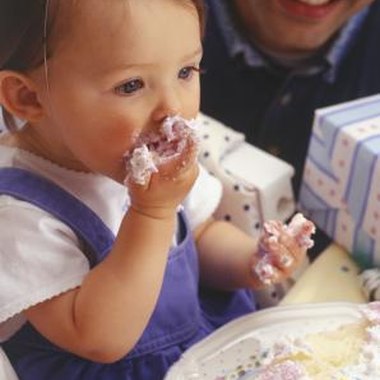 Celebrating baby's first birthday is an exciting day for parents and families. Since most of the attendees will be much older than the guest of honor, the party location must be both fun for grown ups and welcoming to small children and babies. There are many locations throughout the New York City borough of Queens that will suit a growing toddler and family.
Parks
Take advantage of the parks and green space in Queens for an outside birthday party. Cunningham Park is a vast recreation area in Queens just north of the Grand Central Parkway. With several picnic areas and playgrounds to choose among, Cunningham an excellent choice for a 1-year-old's birthday party. Bocce ball courts and jungle gyms will entertain family of all ages, and the guest of honor can enjoy a picnic and cake. Nearby in Flushing, Queens, Kissena Park offers a lakeside trail for walking, and several playgrounds to choose from. Juniper Valley Park is another large park with playgrounds and sports facilities.
Restaurants
For a special birthday outing with family and friends, the right restaurant can be an excellent spot for a toddler's party. The upside to going out is, of course, that someone else cleans up. Classic Italian eatery Piccola Venezia (piccola-venezia.com), in Astoria, offers children's size portions and takes requests to adapt menu items to particular tastes. Piccola Venezia is open on weekdays from 11:30 a.m. to 11 p.m., 4:30 p.m. to midnight on Saturdays and 2 p.m. to 10 p.m. on Sundays. Another Astoria option is the Bel-Aire Diner (belairediner.net), open 24 hours, which has large tables to groups, a children's menu and accepts reservations in advance, although they are not required. Many restaurants throughout Queens can accommodate a family birthday party with some advance notice. Restaurants may provide deserts themselves, or may welcome you to bring your own cake with some conversation in advance with the server.
Indoor Playscapes
Throughout New York City indoor playscapes are available for children and toddlers to play when the weather is cold. In nearby Brooklyn, NYCity Explorers (nycityexplorers.com) offers "Open Play" time for children from infant to 4, and special private birthday party packages. For the 1-year-old who will be celebrating with other babies and families, an indoor playscape is an excellent option. Parents participate and keep after their babies as they explore a dynamic environment full of interesting shapes, colors and obstacles. Party packages include private use of the facility, time for cake and snacks and facilitated games depending on the age and number of children.
Private Banquet Rooms
To create your own theme and activities, a private banquet room that caters to families and children will give flexibility and freedom to the planning of a baby birthday party. Eventz Party Room (eventzpartyroom.weebly.com) in Brooklyn serves both Brooklyn and Queens and is well acquainted with the needs of even the youngest party patrons. The 1,200 square foot space can be outfitted with tables, chairs, specialty floors, speakers and outside vendors can be coordinated to bring in cake and food if needed. For a large event with many family members and friends, a large party facility will accommodate any theme or activity.
Photo Credits
Ryan McVay/Valueline/Getty Images