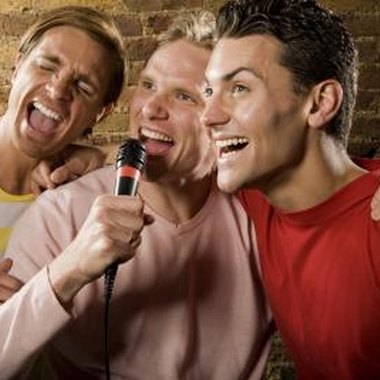 Planning a theme birthday celebration is not complete without matching games. You can find games to match almost any theme, from trivia games for movie parties to makeover games for princess and pop star parties. Run all game ideas by the person who the birthday party is for to ensure that the game is to his liking.
Pop Star Party
Games for a pop star party theme include a variety of karaoke games, such as tournament karaoke. Split participants into teams of three or four and have them sing songs without providing them lyrics. Teams advance only if they get the lyrics correct for each song they sing. You can also assign some participants as judges for talent karaoke contests, and the birthday boy or girl can act as "head judge" if desired. Other pop star game ideas include makeover games, in which two or three "stylists" make over another participant as a pop star using assorted clothing, glittery makeup, wigs and glittery accessories. Ideas for game prizes include birthday cupcakes covered in edible confetti or glittery rings or sunglasses.
Sports Party
There are endless options for parties with a sports theme. You can set up gaming areas for partygoers to play video game versions of their favorite sports, such as football and baseball. Decorate all play areas with streamers, birthday balloons and other birthday decorations as desired. If you have the space, you can create several areas on your property for different games, including volleyball, badminton, mini golf, croquet, frisbee, horseshoes, soccer and baseball. Decorate sports balls and other game equipment with happy birthday wishes and pictures of the birthday boy or girl as applicable. Create tournaments for each sport or for all games, where participants must win each sport they play in order to advance.
Pirates Party
Plastic swords can be given out at pirate-themed parties for play-fighting games, which can be played in the style of live action role-playing games. These games entail two teams fighting one another for control of a "birthday fun zone" with light sword blows indicating that a person is out. Fill the birthday fun zone with balloons, streamers, cardboard birthday decorations and party favors. Versions of the capture the flag game are another option, in which teams attempt to steal the other's pirate treasure, which can include small birthday cakes and other simple items. Place the cakes in plastic containers to avoid insect infestation. Coin toss games using fake pirate gold are another option, or you can rent a dunk tank if you have the resources to make losing teams "walk the plank."
Carnival Party
You can also turn your house or apartment into a carnival by featuring games that are used at them. Glass bottles can be set up for a ring toss or baskets for a baseball or beanbag toss. Assorted birthday decorations can be hung at all game locations, and the birthday boy or girl selects some partygoers as "carnival employees" and others as "carnival goers," rotating all participants between being employees and guests. If you have a basketball net on your property, you can use it for basketball toss games by lowering the net's place on the pole if possible. You can also set up bowling pins on a smooth indoor surface for light bowling games, or set up cans in your backyard for can knockdown games. Decorate the pins or cans with goofy images of the person of honor. Other ideas include birthday cake walks, dart games with birthday balloons, bingo and dunk tank games.
Photo Credits
Polka Dot Images/Polka Dot/Getty Images