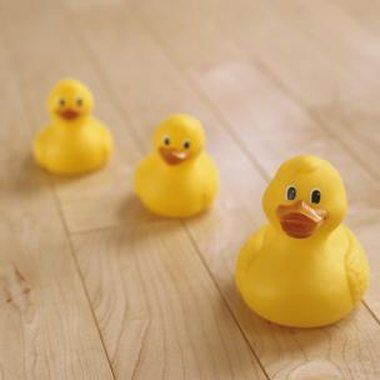 A party for your baby boy should be tailored to suit your tastes since he's too young to have a preference on color schemes and party themes. At this age, the theme depends on what you want to see in his baby photos. Depending on the look that you want to create, there are a variety of ideas that can bring a theme to life.
Baby Animals
Few things in life are as adorable as baby animals, which easily lend themselves to a baby boy's birthday party. Hang large posters of baby animals on the wall. Decorate with colorful balloon bouquets and place a foil balloon shaped like a baby animal in the middle of the bouquets. Drape streamers that have baby animals printed on them to accent the wall. Display your baby boy's favorite stuffed animal as a table centerpiece. Serve a cake shaped like a lamb, puppy or kitten. For easier serving, opt for for novelty cupcakes featuring baby animals.
No. One
The first birthday is significant in your child's life, so choose a party theme that incorporates the number throughout the decor. Cut several numbers ones from cardstock and hang them from the ceiling with fishing line. Place a large decorative cardboard cutout one at the party entrance. Create bouquets with balloons that have the number one printed on them. Place a foil balloon shaped like a large number one in the center of the bouquets. Include framed photos of your little one as table centerpieces. Glue a large number one cutout to the frames. Create a cake shaped like the number one or serve cupcakes with the number one written on the frosting.
Rubber Ducky
Incorporate bright colors into the party with a rubber ducky theme. Select decorations in bright blue and lemon yellow and scatter them throughout the party setting. Hang yellow and blue streamers from the walls or hang up streamers printed with rubber duckies. Decorate the room with bouquets of foil balloons shaped like rubber ducks or use yellow and blue balloon bouquets. Arrange small rubber ducks on the table in a circle so they appear as if they are swimming behind each other. Serve a rubber ducky-shaped birthday cake or cupcakes decorated with yellow ducks.
Solid Colors
Select a party theme that is as colorful as your son's nursery. Possibilities include baby blue with white, mint green with white, or baby blue and mint green. It's best to stick to two or three colors for the party. To decorate, twist streamers in two colors together and hang them from the walls. Dinnerware and napkins should be in a color that contrasts with the tablecloth. For example, if you choose a mint green tablecloth, use pastel dinnerware. Create balloon bouquets using two colors.
References
Photo Credits
Stockbyte/Stockbyte/Getty Images