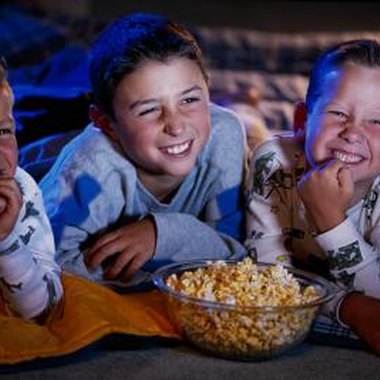 Eleven-year-old boys and girls are beyond the clown and party princess stage. At this age, interests waver between those of children and the teens they'll soon be in a couple of years. Children of this age, often referred to as "tweens," may or may not wish to hold single-gender parties. Ask your birthday tween for a preference and plan accordingly.
Rock it Out
Your 11-year-old may ask for a dance or music party. Together you can choose what theme the birthday child prefers whether it's simply a fun dance party with friends and familiar music or a party with dances from a past era. Disco brings in suits, a disco ball and flashing colored lights. You and your child also can decide on appropriate music by listening to lyrics before they are played at the birthday party. Also you can talk about rules, restrictions and supervision, especially if the party not held at your home where you can more closely monitor the situation. Your child may prefer to listen to music with close friends while talking and having a sleep over. If your 11-year-old child wants to attend a concert, have the child choose a friend or two and accompany them to the concert. If it is late, serve the birthday meal with cake and ice cream ahead of time or take the tweens out for ice cream after the concert.
Skate
At this age, young people may have developed skills on ice skates, inline or regular skates, or skateboards. Your child may prefer to hold a birthday party at a skating rink or park. Check ahead of time for requirements to hold a party, what each child needs to bring, cost and liability should anyone get injured. You and your child should plan whether to hold the entire party at the location or skate first and return to your house for other games and food. You might ask your child to choose one to four close friends to decrease the cost of the skating. Your child might enjoy the birthday more when not competing or showing off with 10 or more other children the same age.
Make it Movies
Hold a pizza and movie party. Take the 11-year-olds to a movie and then out for pizza. Or purchase a movie your birthday child asks for and plan the party around showing the movie at home with pizza, popcorn, chips, pop, punch or other snacks. Serve cake and ice cream after the movie. You and your child also can choose several movies for a sleepover movie night with a few close friends. Check with the parents of the guests, letting them know what movies you plan to show to ensure the parents will not object to the choice.
Games
Plan a game party. Gather classic, trivia, other popular board games and even "Pin the Tail on the Donkey." For board games, set up several card tables and hold a tournament with winners at each table playing one another. Present prizes to the winners. Have the 11-year-olds add a few of their own rules to the games. Combine two games such as a trivia game with chess. Some tweens might prefer playing video games. Play games that can be played as a group, won or lost in the time frame of the party and that meet with parental approval.
Photo Credits
Brand X Pictures/Brand X Pictures/Getty Images