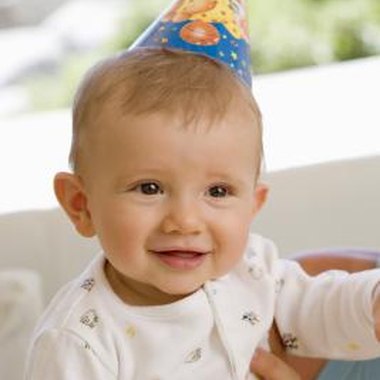 Your child's first birthday is a special event. While a 1-year-old is likely to be happy in any venue that includes familiar faces, bright colors and cake, this special celebration should consider guests' participation, too. Birthday party planning for a 1-year-old should include activities and entertainment for a wide age-range of people. If you are looking for something different, Columbus,Ohio, has unique options for your little one's birthday celebration.
Requirements
Your individual needs vary depending on the theme of your celebration, but most 1-year-old's birthday parties require basic essentials: a place to gather, food, a place for gifts to be opened and some type of entertainment. If you are having your party somewhere besides your home in Columbus, make sure the place you choose accommodates the basic party essentials.
Columbus Zoo and Aquarium
Small children love visiting the zoo. Celebrate your 1-year-old's birthday at the Columbus Zoo and Aquarium by inviting guests to spend a few hours visiting the zoo and then meet at a rented pavilion or shelter. The Columbus Zoo and Aquarium has many different types and sizes of rentals available and some are heated, which helps when celebrating a winter birthday. Although catered safari parties at the zoo are for children over 4, you do have the option of a private Grand Carousel party for your little one, with access to the zoo's beautiful carousel after hours.
Arena Grand
Located in the popular arena district, the Arena Grand specializes in hosting private events and caters birthday parties, even for small children. This location offers a unique option for your small guests to be entertained with a private viewing of a movie that is currently showing, or you may bring your own DVD to the theater to watch. You also have the option of celebrating with gifts and food either in the theater or in a banquet room on the third floor. Arena Grand provides in-house catering as an option too.
SuperGames
"Jump houses," or indoor inflatables, are a popular birthday activity for little ones. If your 1-year-old is walking and mobile, SuperGames in Worthington has several birthday packages that include guests from "walking age to age 18." Even if the guest of honor isn't walking, SuperGames is an excellent option for a birthday party where small guests, especially those with siblings to entertain, have access to all the necessary requirements for a successful birthday party. Calorie and sugar-rush burn off are added jump house party benefits that many parents appreciate. You may bring up to 24 guests and enjoy private access to the inflatable area during your party, with a host who provides assistance as well as safety for little ones. SuperGames recommends making reservations four to six weeks in advance, but accommodates shorter-term reservations when possible.
Photo Credits
IT Stock Free/Polka Dot/Getty Images