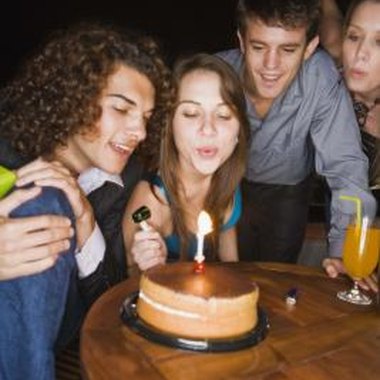 Tucked between the Ohio River and the Appalachian Mountains, Huntington, West Virginia boasts a vibrant community of 315,000 residents with many entertainment opportunities. If you're planning a birthday party in Huntington, there are many venues available to suit your needs.
Outdoor Venues
Ritter Park is an option for an outdoor birthday venue. This 70-acre park is located between 8th and 13th Streets, has an extensive rose garden, and winds along Fourpole Creek. You can reserve the Ritter Park Shelter through the Greater Huntington Park and Recreation District. Ritter Park Shelter has three grills, eight picnic tables and space for up to 64 people.
Restaurant Venues
Nawab Indian Cuisine (nawab.com) is a Huntington restaurant that has been highly rated by Yelp! (yelp.com) and Urbanspoon (urbanspoon.com). They offer reservations and tables for larger parties and intimate tables if it's a more private affair. The four-star menu features curries, tandoori, and vegetarian, seafood and chicken dishes for reasonable prices. If you want a completely different experience, take your party to Hillbilly Hot Dogs (hillbillyhotdogs.com), of "Diners, Drive-in's and Dives" television show fame. While the original Hillbilly Hot Dogs in Lesage, West Virginia is housed in two old school buses, the Huntington Hillbilly is on a downtown corner. They offer hot dogs with every imaginable combination of toppings, including a 1-pound version, plus a hamburger the size of your average family-size pizza. Hillbilly Hot Dogs has earned a spot on the Travel Channel's "Tastiest Place to Chow Down" list more than once, coming in first place in 2011.
Entertainment Venues
If you want a little entertainment for your birthday party, check for live music performances at the Keith Albee Theatre (no website; 925 4th Ave., Huntington; 304-525-4440). This theater was built in 1928 to host vaudeville acts. It's now on the National Register of Historic Places. For another sort of live theater, book your party at the Huntington Funny Bone comedy club. Contact them in advance and they will help you plan your party (funnybonehuntington.com).
Children's Party Venues
Camden Park amusement park is available for children's birthday parties between May and October (camdenpark.com). This amusement park is the only one in West Virginia and has been open for more than 100 years. There are rides, picnic areas and a Kiddie Area for small children. Another children's party option is the free Saturday art classes at the Huntington Museum of Art (hmoa.org). The classes are held year-round.
Photo Credits
Jupiterimages/Comstock/Getty Images