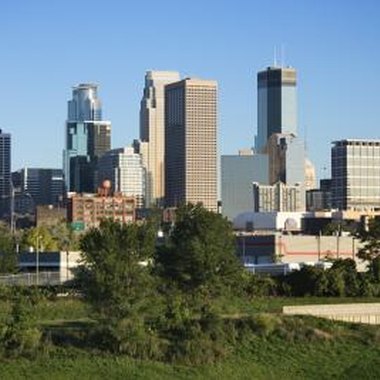 If you are looking for an unusual location for your special girl's birthday, the Twin Cities offer you a wide range of diverse activities and venues based on your child's age and interests. Celebrate her special day with more creative endeavors, or let her soar through the air playing dodge ball on a trampoline playing field. From the girly girl to the tomboy, you can host a party as individual as she is.
For Budding Foodie
The Twin Cities offer your young foodies the chance to celebrate their birthday in delicious ways. Kitchen in the Market (kitcheninthemarket.com) offers an unusual party venue for your girls by teaching them a bit more about preparing the foods they love, even sushi. These classes are open for cooks at any level. Sweet Wishes Parties (sweetwishesparties.com) brings the party to your venue, and allows you to learn how to make scrumptious treats as part of your birthday celebration, such as candies or cupcakes.
For the Girly Girl
The Mall of America in Minneapolis hosts a variety of different spots for both activities and shopping, and the American Girl shops (americangirl.com) offer a birthday venue for girls 3 and up. These parties are all-inclusive and include a Bistro package with food and cake, as well as a Deluxe Birthday Celebration for girls 8 and up complete with tiaras and goody bags. For a more mobile solution, Gamin Ride (gaminride.com) offers a Glamour Ride for 14 girls that includes karaoke, crafts and manicures in a mobile unit. Your little diva in training can also perform in a specially themed party.
For the Tomboy
If your girls are particularly athletic they can enjoy a party with a more active theme, such as rock climbing or trampolines. Vertical Endeavors (verticalendeavors.com) in St. Paul include two hours of rock climbing for your little tomboy and all her friends, complete with an instructor. The Sky Zone (minneapolis.skyzonesports.com) offers those kids a little older than the bouncy castle stage the opportunity to fly and play games in all-trampoline walled playing fields. It's advertised as fun for all ages, but kids younger than 17 must have a waiver signed by their parents.
For the Artist
At Manic Ceramic (manicceramicmn.com) your artiste and all her friends can put their own marks on blank ceramic pieces according to the theme of the party, with two hours in the party room to complete the work of art. These parties require a minimum of six painters. Articulture (articulture.org) celebrates creativity as part of its party packages. Your selected art activity takes place for an hour and a half, with another half-hour allotted for cake and gifts. Articulture can even come to your venue.
Photo Credits
Thinkstock/Comstock/Getty Images