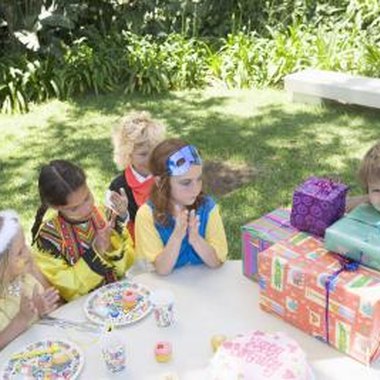 Parents of toddlers in Temecula Valley, California, who are looking for birthday-party locations have a variety of options to choose from, depending on where their focus lies. Whether it is a water excursion or an indoor adventure, everything necessary for a fabulous celebration that will keep young children and adults entertained can be found in town.
Temecula Children's Museum
With an average annual attendance of nearly 50,000, Pennypickle's Imagination Workshop in the Temecula Children's Museum is a major attraction for local residents and tourists. Four different birthday-party packages are offered to accommodate various group sizes and budgets. Parents can rest easy knowing that everything will be handled from invitations to party favors. The museum is on Main Street in Old Town Temecula and is open every day of the week except Monday. Parents can bring their own beverages and cake or pay an additional fee for museum-provided refreshments.
Mulligan Family Fun Center
Although Mulligan Family Fun Center is often considered a popular location for older children, toddlers can enjoy the Fort Mulligan Play Area and some may be tall enough to ride the train or teacup attractions in the Kiddie Korral, with parental accompaniment. Mulligan Family Fun Center is a good option for parents with older children who can find entertainment at their age level during a toddler event. Basic and deluxe party packages are available, and ice cream cake can be purchased additionally.
Temecula Duck Pond
Parents on a budget can still provide toddlers with a great birthday party at the Temecula Duck Pond, a beautiful location in the heart of Temecula with plenty of room for children to run and play safely. A bag of sandwich bread can provide young children with a love for animals an inexpensive source of entertainment as they feed the local ducks, and guests will enjoy a simple picnic lunch after they are finished playing.
Community Recreation Center
The Temecula Community Recreation Center, or CRC, offers a meeting area available for rental to host special events, including birthday parties. Guests can enjoy the additional amenities of a 25-yard heated pool with a shallow end of 40 inches, which makes it an excellent consideration for parents of toddlers with winter birthdays, and kitchen facilities that enable parents to prepare food on site. Older siblings of the birthday boy will find the available video games and pool tables a welcome source of entertainment during the party.
Promenade Mall
For parents who are concerned with satisfying a group of varying interests, the Promenade Mall offers the Build-A-Bear Workshop to entertain young children who can make their own personalized party favor to take home starting at $10, at the time of publication. Parents can take advantage of opportunities to shop for their children or themselves, and with more than 10 restaurants to choose from, party hosts can offer a range of dining choices and put it to a group vote or let the birthday child choose a favorite location.
Photo Credits
Pixland/Pixland/Getty Images