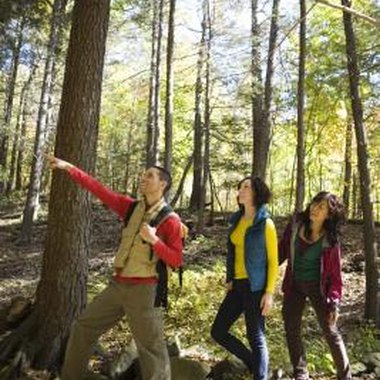 Families in Minnesota can find birthday party locations which match the family budget. Minnesota birthday party sites include sports-centered attractions, relaxing outdoor sites and fun activities that allow families and friends to have a great time. Whether you plan a party for a child who wants an exciting party event, an energetic party for teens or a low-key get-together for adults, you will find the right place in Minnesota.
Sports Venues
Enjoy a game together before you sit down for your birthday cake and singing. The Shakopee area of Minnesota, half an hour southwest of Minneapolis, has a number of sports venues where groups can get together. Play a round of golf at the Stonebrooke Golf Club (stonebrooke.com). Tennis enthusiasts have access to courts at the Stans Park public tennis courts (shakopeetennis.org) in Shakopee. Skaters in the south Minneapolis area ice-skate at the Shakopee Ice Arena (ci.shakopee.mn). After the games, move the party to a joint such as Turtle's Bar and Grill (turtlesbarandgrill.com) or the Donut Connection (donutconnection.com).
Nature Party
Explore Minnesota's wilderness and nature with a hike and a birthday celebration in one of Minnesota's state parks. Set off on a short or long-distance trail, depending on your guests' stamina and abilities, or choose a special theme for your birthday excursion, such as birdwatching, fishing, horseback riding, biking or, in the winter, cross-country skiing or snowmobiling. The Minnesota Department of Natural Resources runs special events throughout the year, including pontoon trips, digital photography excursions and, for a nighttime party, learning about the night sky.
Museum-Themed Party
Add some culture to your birthday with a museum-themed party. Many museums in Minnesota invite groups to celebrate birthdays as part of a museum visit. The Bell Museum of Natural History (bellmuseum.org) at the University of Minnesota in Minneapolis offers a party package which includes guided tours of the museum followed by a visit to the museum's Touch and See Room, where kids interact with live animals. The package includes a private room for the group to enjoy refreshments. The Minnesota Transportation Museum's (mtmuseum.org) Jackson Street Roundhouse in St. Paul invites groups to rent out the facility for birthday parties. The museum allows children to learn about railroading in the Upper Midwest during the last 150 years through music, skits, costumes and props.
Community Centers
Teens often like to create their own birthday parties, but need a venue that offers a framework without too much supervision. Community centers throughout Minneapolis offer events rooms that may be rented out for teens and their friends. The teen can bring her favorite music and refreshments. Community centers that have rooms to rent out for birthday celebrations include Dilworth (dilworthcitymn.com), Chanhassan (ci.chanhassen.mn.us/), Maple Grove (ci.maple-grove.mn.us) and Mounts View (ci.mounds-view.mn.us).
Photo Credits
Jupiterimages/Brand X Pictures/Getty Images