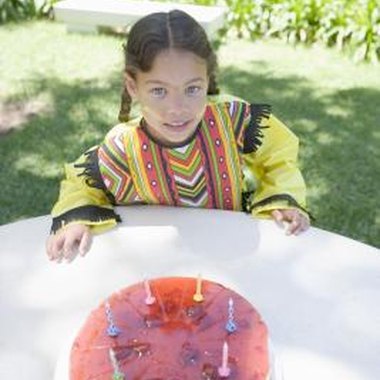 West Chester is a town of about 18,000 residents in southeastern Pennsylvania, approximately 35 miles west of Philadelphia. West Chester gives off the small town vibe with a historic downtown. Despite its small size, West Chester offers plenty of choices for girls' birthday party locations, including indoor venues for the city's snowy winter months.
Brandywine Picnic Park
Brandywine Picnic Park is a large venue along the Brandywine Creek that provides everything needed for a party. After you've booked your party and received your tickets, Brandywine provides the venue, food, drinks and entertainment. Girls should bring swimsuits so that they can paddle or tube in the creek. Additionally, Brandywine offers guests access to slides, rock climbing, mini golf, softball, horseshoes and a gazing zoo. Food options include burgers, ribs, chicken, fries and, of course, ice cream and cake for party goers.
Downtown West Chester/West Chester Railroad
Downtown West Chester offers girls many activities for a birthday party. You can bring the girls downtown for lunch or dinner, then board the West Chester Railroad. A train takes you on a scenic 90-minute ride through Pennsylvania. West Chester Railroad also allows you to book a train car for your birthday party. Eat cake and open presents while enjoying a ride on the train. Stops include a picnic grove, where birthday guests can gather and enjoy a meal.
Ice Line Quad Rinks
For an indoor party, Ice Line Quad Rinks lets girls skate on the open ice. With the company's Ice Line Party Package, kids receive skates, a private room, pizza and soda. The venue also offers an arcade with driving games, air hockey, pinball and more. Call at least two weeks ahead to reserve your special party room at Ice Line. As of June 2011, the cost for the party package is $159.95, and that includes 10 girls and two adults.
Pump It Up
Touted as "The Inflatable Party Zone," Pump It Up in West Chester is full of bounce houses for girls to enjoy. The venue offers multiple packages for parties. One benefit is that your party will be private, and the girls will not have to share the jump houses with outside guests. Inflatable bounce houses, slides, obstacle courses and rock climbing walls provide hours of entertainment for girls at the birthday party.
Photo Credits
Pixland/Pixland/Getty Images