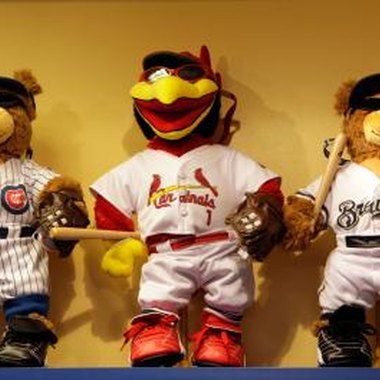 Birthday party ideas for a toddler in Dallas,Texas, range from cute and cuddly to all-out action. The city is home to a variety of tot-friendly party venues that smaller towns aren't lucky enough to have. Hosting a party at one of these places means that you won't have to set up, clean up or decorate, which are all appealing benefits when you're talking about active toddlers.
Restaurant
Dallas has two locations for Chuck E. Cheese's (chuckecheese.com), one at 13364 Montfort Drive and one at 7110 S. Westmoreland Road. This restaurant that also has rides, games and indoor playground equipment such as crawl tubes. The venue separates children by age using different playrooms, and it has an area designed specifically for toddlers. Little ones can play there and then eat lunch. Food options for children are limited to different varieties of pizza. Two-hour party packages are priced per toddler and include food, drinks, tokens and a blow-up birthday crown.
Play Center
Gymboree (gymboreeclasses.com) specializes in birthday parties for toddlers and has one location in Dallas at 11700 Preston Road, Suite 612, and four other locations in the city's metropolitan area. It is a play and music center for small children with age-appropriate activities that help develop children's physical, cognitive and social skills. The center offers party packages with a long list of themes such as farmyards, princesses and construction. Packages include a trained Gymboree teacher to guide children and parents through activities as well as all party supplies, invitations and favors. You'll have to supply the food.
Workshop
Build-A-Bear Workshop (buildabear.com) has a location right in Dallas at the North Park Mall located 8687 N. Central Expressway and three other locations in the metropolitan area. The store has party packages that allow each child to create her own stuffed animal. A store staffer will lead little ones through the process of selecting a stuffed animal, watching it get stuffed, and combing and fluffing its fur. The staff also will lead children through circle-time games. If you choose, you can pay for little guests to be able to pick out an outfit or accessory for the stuffed animal as well. Party packages require a minimum of six children. Food is not allowed in the store. Staffers suggest you hold that portion of the party in the mall food court.
Zoo
Toddlers love animals, and the Dallas Zoo (dallaszoo.com) hosts birthday parties for members and non-members. It's located at 650 South R.L. Thornton Freeway. A flat fee buys admission for up to 30 people, use of the zoo's birthday party room for two hours, up-close interaction with a zoo animal and goody bags. For an extra fee you can upgrade your party to include themed plates and napkins and zoo sun visors. You'll have to bring your own food and pay for your own parking. Balloons are not allowed because they pose a hazard to the zoo animals.
Photo Credits
Jamie Squire/Getty Images Sport/Getty Images