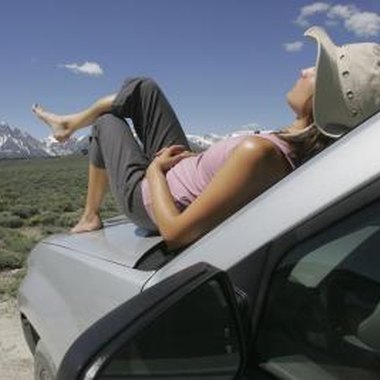 Mammoth Lakes, California is a town of around 8,000 residents in Mono County. Mono County rises from the Pacific Coast to over 7,000 feet by the time you reach Mammoth Lakes, which sits atop a good deal of seismic activity, including natural hot springs and an occasional earthquake. In the shadow of Mount Morison and surrounded by natural mountain lakes, the town is renowned for its natural beauty and offers several unusual birthday celebration options.
Event Birthdays
One way to coordinate a memorable and unique birthday part in Mammoth Lakes is to check the city's events calendar for local events that fall on the birthday in question. There are fishing derbies in May, motocross races in June, foot races, music concerts and chili cook-offs in July, arts and crafts festivals and canoe races in August, beer festivals and bike races in September, and more fishing tournaments in October and November. Party planners can integrate attendance at the events with the célèbre, along with a birthday dinner at one of the local restaurants. The city's website keeps an updated events calendar.
Pontoons and Horses
Perhaps you want to take advantage of the tremendous natural beauty to plan an unforgettable outdoor birthday party for someone whose birthday falls in the warm months. Convict Lake Resort (convictlake.com) in Mammoth Lakes not only has group cabins for overnighters, it also offers a day trip across the lake in a pontoon with your party, whereupon you can mount up on horseback with your picnic-style birthday party goods and celebrate along the equestrian trail.
Skiing Birthdays
Cold weather birthdays in Mammoth Lakes should make you think of skiing. Rent a birthday space at one of the several condos or hotels near Mammoth Mountain Ski Area (visitmammoth.com/hotels), and you can have the cake and ice cream between runs down the slopes. The Village Lodge, Juniper Springs Resort, Mammoth Mountain Inn and Tamarack Lodge and Resort all have facilities for parties; but call early and make your reservations.
Camping Birthdays
If your célèbre is a really outdoorsy type, check out one of the 800 campsites in the Mammoth Mountain Area and make the birthday the first day in a camping trip. Lakeside and streamside campsites are available, with everything from primitive camping to full-service RV campsites. Many of the campsites are first-come-first-serve. That is not ideal for planning a birthday party as the kickoff for a camping trip, so contact one of the sites that take reservations. Those include the Sherwin Creek, Shady Rest, Coldwater Creek, Twin Lakes, Convict Lake, Pine Glen, Agnew Meadows or Pumice Flats campgrounds (visitmammoth.com/camping/).
Kids' Birthdays
If you are celebrating a youngster's birthday, there are several kid-friendly party spots around Mammoth Lakes. Wild Willy's Mammoth Arcade at Minaret Village Shopping Center (californiatravelcenter.com/index95bb.html) features arcade games, internet games, movies and food for your birthday boy or girl. Color Me Mine (mammoth.colormemine.com) is also in the Minaret Village Shopping Center; and it is a make-your-own art and ceramics studio that hosts catered children's birthday parties, where the kids play and make gifts as part of the action.
Photo Credits
Jupiterimages/Comstock/Getty Images