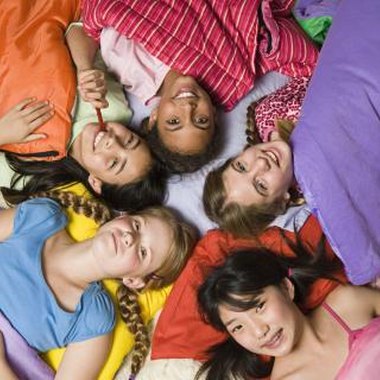 If it's one thing every child looks forward to, it's their birthday. Whether they are 5 or 15, their birthday represents a special day of the year that is their day. As a parent you want to make it as special for them as possible. One sure way of doing this is a sleepover, but not just any sleepover. Incorporating a theme into this event makes it a birthday your child will remember for years to come.
Go to Hawaii
Many girls fantasize about the white sand and clear blue waters of Hawaii. Although you may want nothing more than to fly your daughter and her friends to this tropical paradise for her birthday, it is more realistic, and less expensive, to bring Hawaii to you. Begin by donning guests with leis as they arrive. Ask a relatively decent artist in your family to draw two life-size palm trees on paper board to put on your walls. Once all guests are present, lead them to the luau, a buffet table decorated with green crepe paper and flower petals. Placing tiki torches on either side of the table gives the room a feeling of authenticity, and using actual coconuts for cups adds the final touch. Dinner can include pulled pork, dinner rolls and fruit kebabs. Offer virgin Pina Coladas and Shirley Temples for beverages. Have a hula dancing contest after dinner, giving each girl a grass skirt from your local dollar store. Now it's time to cut the cake and open gifts, after which the girls can make their own "Hawaiian" bracelets with bead sets. As bedtime approaches, give them movies with a Hawaiian theme to choose from.
A Hotel Party
This works well for older children -- approximately 10 or 11 -- who understand the excitement of staying in a classy hotel. Place a sign outside your door, welcoming the guests to your hotel. For fun, name it after your child. Have a check-in receptionist and a bellboy who can take their bags to their sleeping area. Prepare a menu with fun foods for guests to choose from. Appetizers might be pigs in a blanket, while the entree selections can include pizza or chicken fingers. Dessert is obviously the birthday cake. Before serving the cake, fill champagne glasses with apple cider. Supply after-dinner entertainment that includes plays, skits and a karaoke machine. Keep birthday hats on hand, along with a full supply of your daughter's favorite music. Before bed, allow the kids to choose their breakfast the next morning, which is delivered as room service. As everyone settles down to watch a movie, serve them popcorn in individual bags that say, "Thank you for your stay. We look forward to meeting your needs in the future."
Nature Party
If your son is adventurous and loves the outdoors, a nature sleepover may be right up his alley. Decorate your home with pictures of wildlife to give your home the true feeling of nature. Find CDs with animal sounds: birds chirping, crickets calling or the rustling of leaves from deer walking. In the invitations, instruct the guests to bring sleeping bags. Set up one or two tents in your living room for the guests. Scavenger hunts are a fun way to kick off the night. Give the winner a bag of trail mix, staying in line with your party theme. Dinner can consist of "rations" people take with them in the woods. Cheese, pepperoni and crackers are usually a hit with boys. Bags full of grapes, raisins and seeds are also options. When it's time for bed, creating the illusion of stars in the sky is easily accomplished by placing glow-in-the-dark constellations on the ceiling of the room the boys are sleeping in. They can look at the stars as they close their eyes and fall into a peaceful slumber.
Football Sleepover
Most boys absolutely love football, even if they don't agree on who the best team is. Decorating your home for this is fairly easy. Make goalposts with the foam "noodles" usually saved for summertime fun in your pool. Place a banner above the dinner area with your son's name and "jersey" number. Using white T-shirts, make a jersey for each guest, complete with their name and a number on the back, along with the number on the front. Use your family's last name as the name of the football team, writing this on the front. Don each guest with the infamous black markings under their eyes as they enter your home, along with their jersey. A game of flag football before dinner gets the night off on the right foot. At halftime, serve hot dogs, chips and dip, along with sugar-free soda. Once their stomachs are settled, set up a "boot camp" in your home. Split the boys into groups, running different drills at two or three stations. Serve a football-shaped cake for dessert, and before bed, play a movie such as "The Grid Iron Gang."
Photo Credits
Jupiterimages/Brand X Pictures/Getty Images