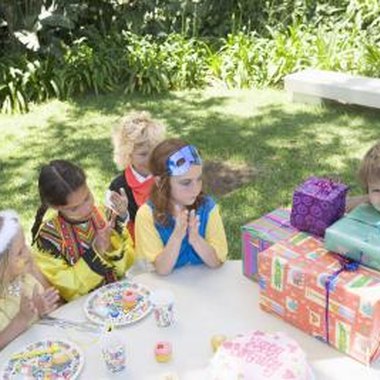 Many birthday party options exist for children in northwest Indiana, negating the need for parents to look in neighboring metropolitan Chicago. Some entertainers travel within the region, so parents can monitor activities from the comfort of their homes. Families who live in small quarters or would rather not lend their living space to a multitude of screaming children can arrange for safe interactive party experiences outside home as well.
Gymboree
Gymboree (gymboreeclasses.com) in Dyer is a structured play center for children offering birthday parties for children ages 1 to 5. Parents reserve party appointment slots, draft a guest list and provide food while center staff do all the rest of the work. Gymboree provides invitations, gift bags for guests and necessary party supplies including eating utensils, candles and decorations. Gymboree does, however, require that one adult be present to supervise each child in attendance.
Challenger Learning Center
Hammond's Challenger Learning Center (clcnwi.com) hosts birthday parties for children ages 3 to 12 amidst its numerous learning sessions about space and everything interplanetary. The Challenger Learning Center entertainment options create an atmosphere your birthday child and friends will never forget. All party packages provide themed decor and a choice between a party game or craft activity. Guests are also given an opportunity to experience a space ride simulation. Some craft activities include designing telescopes and robots and making sand art key chains. One adult chaperone must be present for every six children.
Movie Scene
Hire Tony Bustamante (lightscamerabirthday.com) to turn your child's birthday party into a Hollywood movie scene. A father who travels throughout northwest Indiana, he is a certified volunteer for the Archdiocese of Chicago who follows a strict code of conduct when working with children. You can hold the party anywhere you like. The screenplay writer will draft scripts for your guests; bring props, costumes and filming equipment; and help children execute their lines. Edited footage is copied on-site to digital video discs for every party guest.
Magic Show
Timothy Arends, or "Arends the Amazing" (nwibirthday.com), travels throughout northwest Indiana to put on magic and ventriloquist shows at birthday parties. He is a member of the North American Association of Ventriloquists and the Society of American Magicians and also performs at area schools and festivals. His shows are interactive, as he invites audience members to hold spring snakes or "disappear" before everyone's eyes. Deluxe and super party packages provide guests with toys, bonus routines and balloon animals.
Photo Credits
Pixland/Pixland/Getty Images