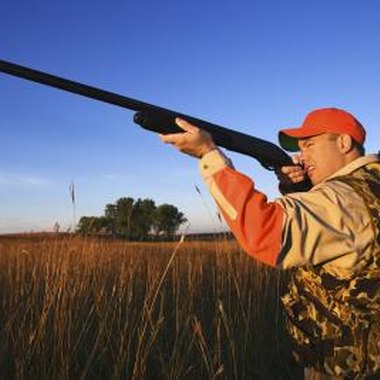 Many nature enthusiasts enjoy hunting, which is a popular hobby for those who love the outdoors. If your child is fascinated by the different elements of hunting, such as camouflage clothing, weapons and animals, throw him a hunting-themed seventh birthday party. Add fun decorations and a customized cake to personalize the party for the birthday boy.
Invitations
Enlist your soon-to-be seven year old to help you make simple party invitations. Use cut-out rectangles of green, brown or camouflage-print construction paper and have your child draw pictures, such as deer, on the front and print the party details, such as the date and time, on the inside. Another option that seven-year-old children will enjoy is attaching the party details, which can be written on an index card, to a hunting-themed toy, such as a bow and arrow. Distribute these homemade invitations to your party guests in person. If desired, include a note on each invitation asking that guests be dressed in camouflage-print or green clothing.
Decorations
Use camouflage print to emphasize the hunting theme of your child's birthday party on party decorations. Purchase camouflage-print plates, cups, streamers and tablecloths from a specialty store. If you cannot find camouflage decorations, incorporate the colors green, black and brown instead. You can also hang camouflage fabric and brown netting on the walls and place animal decoys and toy hunting weapons around the party room. If the party is going to be in an outdoor area, hang camouflage streamers from trees and bushes.
Food
Devise a party menu for your seven-year-old and his party guests that includes a variety of hunting-themed foods, which are typically quite simple and convenient. Kid-friendly hunting foods include beef jerky, sandwiches, trail mix, granola bars and small bags of chips. If you're looking for a more substantial meal, many seven-year-old children will find a basic nonspicy chili palatable. For dessert, decorate your child's favorite cake with green, black and brown icing and plastic hunter figures, animals and trees.
Activities
The Fun Kid Birthday Parties website suggests playing a game called "Pin the Antlers on the Deer" at a hunting birthday party, which is played in the same fashion as Pin the Tail on the Donkey. In place of the traditional materials, mount a picture of a deer head on the wall and use a cardboard antler cut out. Camouflage-print and hunting-themed face painting is another activity that is suitable for seven-year-old children, as well as lighthearted target practice with animal decoys and toy bows and arrows.
Photo Credits
Jupiterimages/Comstock/Getty Images