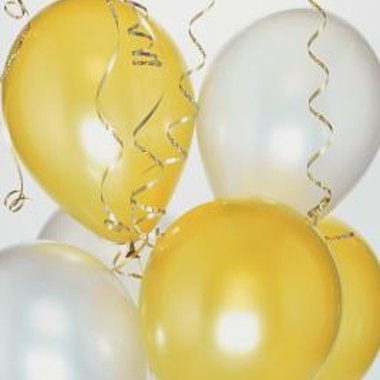 Birthday parties for any age require a certain amount of careful planning and preparation in order ensure that the theme is appropriate for the birthday person. Also, unless you're willing to sacrifice your home to hordes of trampling feet, both young and old, it may be wise to plan the party at an alternate location. Parties can be planned around fun places and can accommodate almost any type of personality, no matte the age of the guest of honor.
Virginia Living Museum
Located in Newport News, this lovely animal sanctuary and planetarium hosts high-end parties and corporate functions. It can seat 200 people. For children, birthday parties include the ability to tour the 62,000-square-foot facility that houses a variety of educational plant and animal displays. You also receive a separate birthday room for cake and presents, as well as a 10-minute live animal show. For an additional cost, you can choose from options such as temporary tattoos, a costumed mascot appearance or a party theme such as butterflies or dinosaurs. For pricing and availability contact the Virginia Living Museum at 757-595-9135.
Norfolk Botanical Garden
Located in Norfolk, the Norfolk Botanical Garden is a delightful outdoor venue that showcases lovely gardens with a variety of flowers, shrubs and hedges. Birthday parties for adults might include a picnic in any one of the gardens depending on the number of guests. While the Rose Garden can accommodate 240 guests, the Picnic Shelter only has room for 50. Remember that your party may be at the mercy of the weather and plan accordingly. Children's birthday parties can be celebrated indoors at the Exploration Station. Parties are themed and are age appropriate. For example, for children ages 6 to 12, themes are pirate adventurer, frog princess, flower power and garden safari, and activities include crafts and a scavenger hunt. Birthdays are held on Saturdays and Sundays only. For more information contact 757-441-5830.
Peninsula Fine Arts Center
Located in Newport News, the Peninsula Fine Arts Center houses dynamic exhibitions of a variety of mediums. Birthday parties for children are held at the Hands On for Kids gallery, which includes a reading library, sculpture studio and chalkboard wall. Parties are for two hours and can accommodate a maximum of 20 children. For the party you may choose an art project to be taught by a professional artist/educator. Examples of some of the art projects include using papyrus to create Egyptian scenes, jewelry-making, mask creation, and painting either faces, animals or outdoor scenes. For more information, call 757-596-8175.
Lazer Rush
Located in Newport News, Lazer Rush is truly for young and old alike, and is sure to encourage an active birthday party. Wearing a laser-sensitive vest, participants are both hunter and hunted. Parties can be planned according to the number of attendees, and include a set number of games, a party room, pizza, birthday cake, soda and eating utensils. For more information or to make reservations call 757-877-0181.
Photo Credits
Comstock/Comstock/Getty Images