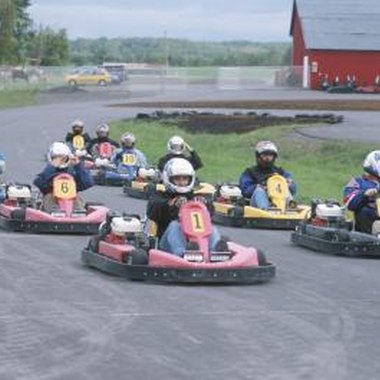 When you are looking for birthday party ideas for go-karts in the D.C. area, you will be considering venues in Virginia and Maryland. Before you decide where to hold your party, consider the amenities at each site. Some go-kart centers cater to birthday parties, while others do not. Age and height of the guests are also factors to consider, as each track has different restrictions.
Go-Karts Only
One idea for a go-kart birthday party is to enjoy food and refreshments at home or another location and then head to a go-kart track. Two tracks in the D.C. area offer go-kart rentals only. The Go-Kart Track (gokarttrack.com), also known as Skelterama Go-Kart Track, in Bladensburg, Md. is outdoors, while Allsports Grand Prix (allsportsgp.com) in Dulles, Va. is an indoor track. It requires that kids have passed the two-day racing school it offers.
Go-Karts and Celebrations
Other go-kart tracks in the D.C. area allow you to have food and celebrations at the track. At Crofton Go-Kart Raceway (croftongokartraceway) in Gambrills, Md., you can show up without a reservation and bring your party food and supplies to set out at picnic tables and bleachers around the outdoor track. Adventure Park USA (adventureparkusa.com) in New Market, Md. offers party packages that include pizza and soda and the use of a private party room. It has other attractions as well, including laser tag, bumper boats and mini golf.
Lap and Time Charges
Charges differ at each track. Some allow you to pay by the lap, while others charge a flat fee for a specified amount of go-kart time. For example, at the Go-Kart Track you can buy a ticket that enables you to drive six laps or you can buy 15 six-lap tickets. The Allsports Grandprix venue charges per person for eight minutes of driving time.
Other Considerations
Before planning a go-kart birthday party, consider the weather and driving restrictions. Some tracks, such as the Go-Kart Raceway, are outside and therefore you must plan your party according to the weather forecast. The tracks may close if it's too rainy, snowy or cold. Each track has driving restrictions that generally limit drivers by height and age. Even passengers are limited by age, with toddlers generally being banned from riding in the go-karts.
Photo Credits
Hemera Technologies/Photos.com/Getty Images