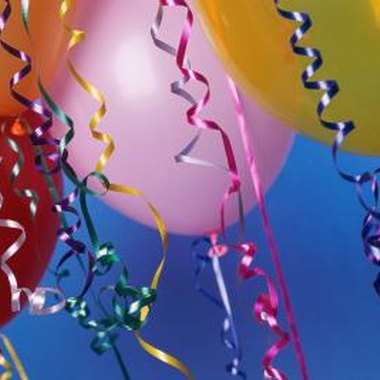 In a big city like Los Angeles, combined with its surrounding area, there are virtually unlimited options when it comes to planning a party for an 11-year-old. Kids and parents can choose an ice skating party, a science theme, art activities or a zoo party. Parents will appreciate the convenience of letting someone else do all the planning, cooking and cleanup for their 11-year-old's next birthday party. Whatever your 11-year-old's favorite thing to do, you can find a place to celebrate her birthday with friends in style.
Science Museum Party
Museum and science center parties will entertain and educate your 11-year old and her friends at her next birthday party. Mad Science (madscience.org), California Science Center (californiasciencecenter.org), Zimmer Children's Museum (zimmermuseum.org) and Kidspace Museum (kidspacemuseum.org) are a few of the fun and educational places to hold your child's 11th birthday party. Children's museums and science centers offer hands-on activities in a safe and fun learning environment. Party guests can explore Earth science and beyond at Los Angeles science museums.
Indoor Play Party
Your 11-year-old can run off all that energy before and after the birthday cake at an indoor play party. Numerous indoor play sites are located in the Los Angeles area that will host your child's birthday party. The birthday child and his guests can play glow in the dark mini golf at the Putting Edge (puttingedge.com) or go on a treasure hunt as a pirate at Under the Sea (undertheseaindoorplayground.com). Party planners take care of everything while the kids play and the adults relax.
Ice Skating Party
An ice skating birthday party is a cool idea for your child's 11th birthday. Your 11-year-old and his friends can feel like pros when they attend a skating party at the Toyota Sports Center (toyotasportscenter.com) in El Segundo, which is the training ice for the NHL's Los Angeles Kings. The Pasadena Ice Skating Center (skatepasadena.com) and the Culver Ice Arena (culvercityicerink.com) also offer parties. Party packages often include group skating, cake or ice cream, refreshments such as pizza and much more, though each venue offers a variety of options. An ice skating birthday party is sure to thrill the future hockey player or budding figure skater.
Zoo Party
A zoo party is the perfect birthday party location for 11-year-old kids who love animals. Zoo party planners provide everything for an enjoyable and memorable birthday party. Birthday parties last for up four hours and include cake, food, drinks and party favors. Party planners handle all the arrangements and guided tours of the zoo can be arranged. The Los Angeles Zoo (lazoo.org) gives children an opportunity to learn about animals hands-on at a petting area.
Photo Credits
Stockbyte/Stockbyte/Getty Images