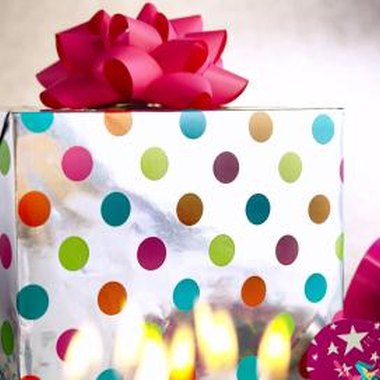 Children ages 10 and older are typically no longer interested in the types of birthday party themes they enjoyed when they were younger. By this age, they have often outgrown the desire for clown, Disney character and prince or princess themes. However, many birthday party ideas for kids 10 and older are equally as fun for them and their guests.
Sleep-Over Party
Children ages 10 and older often enjoy having a few friends stay overnight. For girls, plan to have activities, such as makeovers, pillow fights and a movie. You can serve popcorn, candy, ice cream sundaes and other fun snacks. Boys may enjoy a camping sleepover in the backyard. Simply pitch a tent and light a small campfire. Have the boys take turns telling ghost stories and provide foods like marshmallows and hot dogs for roasting over the fire.
Disco Night
Encourage your child's guests to wear retro-style clothing and costumes to the birthday party. Clear furniture from a room in your home and decorate with a disco ball and black light. Play a CD of disco-style dance songs and allow the kids to dance. If your budget allows it, you may also consider hiring a dance instructor to teach the kids some basic disco dance moves.
Luau Theme
For a luau-themed birthday party, provide each guest with a lei upon arrival. Decorations can include paper lanterns, grass-skirt table covers, inflatable or cardboard palm trees and tropical fruit centerpieces. Serve tropical foods, such as pineapple, pork, nuts, salads and shaved ice. Serve tropical punch in pineapple-shaped cups. Plan activities such as limbo and hula dancing.
Spy Party
Decorations for a spy-themed birthday party might include paper footsteps leading to the front door or party room and police line banners. Provide guests with dress-up items, such as hats, trench coats and pipes. Activities for the spy party may include the board game Clue and a scavenger hunt. You could also create a mystery to solve by placing clues around the house for children to find and decipher. Serve finger foods, such as nachos, pizza rolls and trail mix.
Photo Credits
Photos.com/AbleStock.com/Getty Images