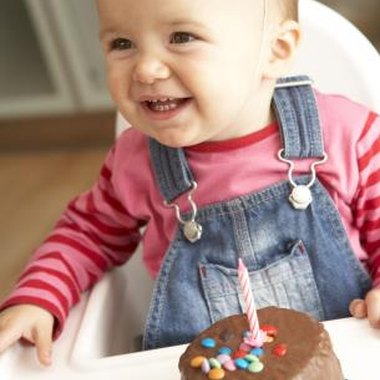 A first or second birthday party is a time of great fun and excitement for the entire family, and parents will want to have activities planned to keep little ones entertained and happy during the festivities. Formal games aren't necessary for children this age, as they won't really understand the competitive aspect of those types of games, but parents should plan some fun activities to get everyone involved and having fun.
Partner Hot-Potato
Give a spin to this popular party game to make it appropriate for infants and toddlers. Have each child sit on an adult's lap (or hire some teens to help out for the big day), in a circle. Play some music and pass an item around the circle until the music stops. Once the music stops, the child holding the item gets to keep it as a party favor. For the next round, pull out a new prize and keep playing until every child has something they can take home.
Stick the Dots on the Butterfly
While infants and toddlers will probably not enjoy the blind-folded donkey version of this game, they will still have fun getting to decorate something on the wall. Family Fun suggests creating a large butterfly out of poster-board, and then supplying children with different-colored stickers in the shape of small circles. Let children take turns sticking the dots onto the butterfly for a fun and interactive activity.
Moving Games
Older infants who are walking and toddlers will enjoy games that allow them to move around and be silly. Try playing a round of "Follow the Leader" and try to get children to copy actions such as touching their noses, or making a funny face. This age enjoys songs with movements such as "Head, Shoulder, Knees and Toes" or "Ring Around the Rosie."
Treasure Hunt
Fill a large shallow plastic storage bin with sand, rice or dry beans. Provide children with spoons and small cups so that they can scoop and pour the contents. Not only will children enjoy the activity, but hosts can hide small toys in the bottom of the box that children can find and take home as prizes. Small cars, plastic animals, bracelets or balls are fun choices, as long as they are not choking hazards.
Craft Table
All children love creating, and infants and toddlers are no exception. This is another time to enlist the help of some teens. Cover a table with plain white paper and allow guests to draw and decorate their spots. Help children make their own hand or foot prints on paper to remember the occasion. Let children string items to make a necklace (o-shaped cereals work well) or paint something on each child's face, like a sunshine, flower, rainbow or butterfly.
Photo Credits
BananaStock/BananaStock/Getty Images