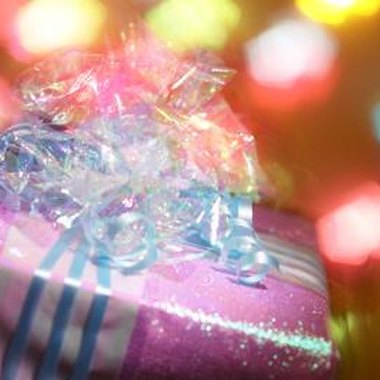 When it's time to throw a birthday ball for your little princess, you can bring a royal smile to her face and make her feel special with the right decorations. You can easily find many party decorations to choose from with a Disney princess theme that can help make her birthday party a royal success full of magic and memories.
Princess Arch
Have party guests enter through a festive arch that uses a doorway and a plastic tablecloth. Get a large picture of the birthday girl's favorite princesses and attach it to the top of the tablecloth or, if you are artistic, draw the princesses on the tablecloth with permanent markers. Cut the tablecloth into strips like streamers and hang in the doorway using tape or a tension rod. The princesses will flutter and float as the guests enter. For a simpler arch, after cutting the tablecloth into strips, add princess stickers.
Table
A beautifully set table can include paper plates and cups with princess pictures on a light pink tablecloth with dark pink or other colored plasticware to coordinate with the plates. Choose plates and cups with multiple princesses on them, or if the party girl has a favorite, focus on just one, such as Snow White, Tiana or Cinderella. If you are serving a lunch, such as pizza, be sure to purchase plates in both lunch and dessert sizes so that you also have plates for the cake.
Cake
Perhaps the most important decoration on the table will be the magnificent birthday cake. Make a princess birthday cake using a Bundt cake pan for the skirt. Make the princess' "hair" from either light or dark thinly piped icing, depending on your princess, and ice the dress in an appropriate color for your princess.
Dressing Room
Girls love to play dress-up, so make this irresistible activity part of the decorations. Purchase an inexpensive box of Disney princess dress-up clothes and hang the gowns on hangers wrapped in gold and silver sparkling ribbon or fabric. Distribute the gowns through the party rooms so that they are hanging from chairs and walls. Make sure each chair has a tiara loosely fastened to it that princesses can try on to complete their look. After the girls have had plenty of time to try on each of the princess gowns, give each one of the wrapped hangers and a tiara to take home as part of her goody bag.
Photo Credits
Hemera Technologies/AbleStock.com/Getty Images