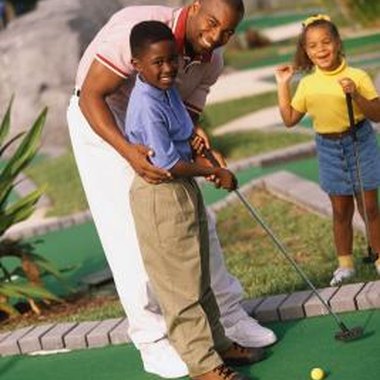 Gainesville, Florida, is the county seat of Alachua County and sits in the north-central part of the state. Boys celebrating a birthday in the city have a number of party options, including games, attractions and an opportunity to participate in physical activities. Party packages also may offer food, beverages, party bags and a party host.
Skate Station Funworks
Skate Station Funworks (funworks.com) is located in Gainesville and features an arcade, batting cages, go-karts, a rock climbing wall, roller hockey and miniature golf. Boys who are under the age of 10 also have access to a three-level play area, which features tunnels and slides. Birthday party packages include unlimited access to various attractions; tokens for the arcade; a party host; and food and drink options. Additional party options include a balloon bouquet, disposable camera, T-shirt and party favor bag. Four party packages are available, and each requires a minimum of 10 party guests. The cost of the packages is based on the cost per child. As of 2011, the Director's Cut Package is $14 per child, the Silver Screen Package is $17, the Blockbuster Package is $19, and the Academy Award Package is $25. The differences in the packages include the number of tickets and tokens, and party favor bags.
O2B Kids
O2B Kids (o2bkids.com) is an after-school program for children up to 13 years of age in Gainesville. Opportunities are available for boys to play sports, take karate and learn about technology. Birthday party packages are also available at the location, and birthday boys can celebrate with a pirate theme, which offers boys an opportunity to dress up as pirates, go on a treasure hunt and play capture the flag. As of 2011, the cost of the birthday party package is $150 for a minimum of 10 party guests. Each additional child is $15, and parties are offered only on Saturdays.
AMF Alley Katz Corner
AMF Alley Katz Corner (amf.com) offers birthday parties for boys of all ages. A minimum of eight guests are required per party, and bumpers are available for younger bowlers. In addition to bowling, numerous food and beverage options are available at the Laneside Grill, which is the on-site restaurant. Staff members can offer ideas on decorations and possible themes. The price of a birthday party depends on the number of games played and the number of bowlers.
Sun Country Sports Center
Sun Country Sports Center-Millhopper (suncountrysports.com) offers numerous birthday party activities for boys of all ages. Birthday party package options include swimming, rock climbing and martial arts. Parties can also be held in the bounce room or foam pit. Guests can participate in an obstacle course, have relay races, jump on trampolines and ride zip lines. Birthday party packages are for 10 guests, and pricing is $245 for swimming, $245 for rock climbing and $120 for martial arts, as of 2011.
Photo Credits
Stockbyte/Stockbyte/Getty Images