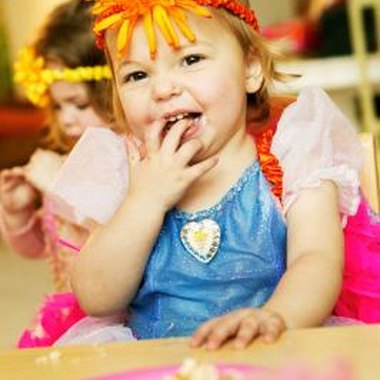 Two-year-olds are energetic, independent and their most frequently used words seem to be "Mine" and "No." Nevertheless, a birthday party at this age can be entertaining for you and your child. Two-year-olds don't have high expectations from a birthday party, but choosing a theme your child likes can make it fun for them and the other young partygoers. Design an invitation with clever wording to kick off a memorable party.
Simple Wording
Announcing your child's 2nd birthday to your family and friends can be done in more creative ways than ordering custom-printed invitations. Buy colorful scrapbook paper and make your own cards. Cut the cards in the shape of your child's favorite animal. Create a finger-painted invitation together with your child or use a sponge to imprint colors on the cards. The wording on the invitation should be simple so that toddlers can understand it. Use wording such as: "You are invited to Andy's birthday party. Join us on Sunday, June 19, 1 p.m. to 3 p.m." Alternatively, announce the occasion in a playful manner: "Peek-a-boo! Guess who's 2. Andy that's who!" Use the back of the card to include a small map with the location of the party.
Character Party
A theme party is perfect for the 2-year-old who has already discovered his favorite cartoon character. Thomas the Train is a popular character with children and an inspired choice for a boy turning 2. The card can be train-shaped and have pictures of Thomas and his friends both on the cover and on the inside of the invitation. Customize your invitation by including a drawing of a train made by your child. Take a picture of your child's drawing and send it to a printing company when ordering the invitations. Link the theme of the party to the text on the invitations: "Choo-Choo/ Andy is turning 2!/ All aboard for a birthday party!"
Costumes
Two-year-olds love to dress up, so invite your guests to dress in costume according to the theme of the party. Mention if you will provide guests with costumes or accessories. For a princess party, wording could be "In honor of the birthday princess, don your most royal attire. We'll crown all princes and princesses as they arrive at the castle!" Give each child a tiara or crown purchased at your local dollar store or have them make them as a party craft. For a pirate party, you might say: "Ahoy Matey! Dress up in red, black and white. Your treasure -- an eye patch and pirate hat -- awaits!" Make black eye patches and red pirate hats during the party craft time.
Theme Party
Farming is another fun theme for a 2-year-old's birthday party since young children love animals. The invitation could contain different farm animal pictures or can be in the shape of a farm animal. The wording on the invitation may include a few sounds animals make and mention that all these animals are coming to celebrate the child's birthday: "With a Baa and a Moo and an Oink Oink too/I want to celebrate my birthday with you!" Another wording example for farming-themed parties is: "Calling all cowboys,/ Come celebrate our buckaroo,/ Andy is turning 2!" Include a few animal nursery rhymes on the back cover.
Photo Credits
Jupiterimages/Photos.com/Getty Images