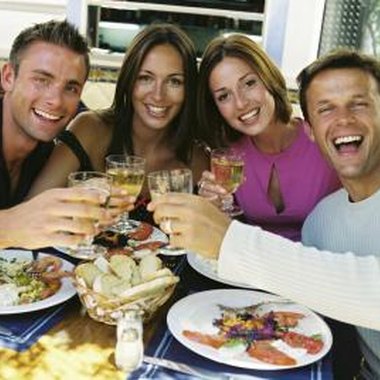 The phrase "going Dutch" typically means that each guest pays for his own bill, rather than one host paying the bill for everyone. Although this may be a bit awkward to present to your friends, making it clear from the very start in the invitation will help keep away any awkward moments or misunderstandings. Going Dutch will allow you to have plenty of friends in attendance for your birthday celebration, without you going into debt for the next year to cover the bill.
Offer to Buy One Round
Avoiding the awkwardness of saying "I do not plan to pay" but still making it clear that the bill will need to be split is the hardest part of setting the "going Dutch" expectation right from the start. One way to smoothly avoid having to come right out and say it is to write on the invitation, whether it is in print or electronic, "Be on time, because only the first round of drinks is on me." This is a casual and fun way of making it clear that other than that one round of drinks, guests are expected to pay their own way.
Include It in the Details
Another way to handle it is to come right out and mention it in the details for the invite. Try wording it like this, "Please bring small bills to make it easier to split the check afterward. Bring a little extra, because we don't want the birthday girl to have to pay :-)" Keep the phrasing light and simple, so that you have set the expectation that guests will need to pay, without letting it feel awkward.
Mention the Passing of Appetizers
Send guests a link to the restaurant or bar's menu ahead of time, with the invitation. Say something like, "Click on the link to see Magnolia's menu. Think about an appetizer you would like to treat the group to..." This will have guests in the right frame of mind that the check will not be picked up by the host and allow them to become familiar with the prices of the venue ahead of time.
Make It a Potluck
If the birthday celebration will be held at a home, rather than a bar or restaurant, and you just can't afford to purchase all the alcohol and food, make it a potluck. In the invitation simply write ,"Please bring your favorite appetizer and adult beverage; enough to serve 12". Put out some bowls with some inexpensive treats such as pretzels, chips and salsa, to supplement what your guests bring.
References
"Unforgettable Invitations: Create Unique Announcements for Every Occasion Tips & Techniques to Spark Your Imagination (Create & Treasure)"; Melissa Collette Giles; 2006
"Emily Post's Great Get-Togethers: Casual Gatherings and Elegant Parties at Home"; Anna Post and Lizzie Post; 2010
Photo Credits
BananaStock/BananaStock/Getty Images