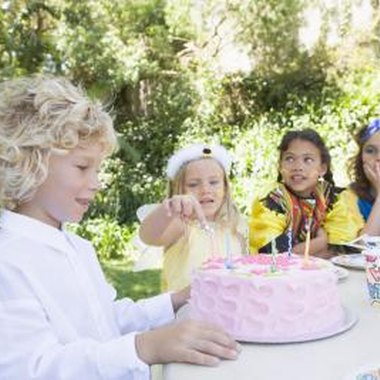 A birthday party is a special occasion, celebrating the birth of a particular person with his family and friends in one fun-filled event. An improperly worded invitation to such an event can lead to confusion and undue stress on the party-thrower. For this reason, a clearly-worded invitation not only makes the details easy to comprehend for the person invited but alleviates much stress from the birthday guy or gal.
Basics
All birthday invitations should include the basic information that a guest would need to know. This information includes the date of the party, where it will be located and what time the event will take place. The invitation also should say who the birthday party is for and will usually point out how old the birthday guy or girl is.
RSVP
Party hosts usually like to know how many of the invited guests will actually be attending the party, especially if the event is being held at a location like a restaurant that needs to know how many people will be at the party. RSVP comes from a French term, repondez s'il vous plait, which basically is asking the invited guest to reply whether they are attending or not. Some invitations will say "regrets only," which instructs the invitees to only respond if they will not be attending.
Gifts
If the birthday boy or girl does not want gifts or, on the other hand, has a gift registry, this should be indicated on the invitation. Some people ask their guests to make a donation to a preferred charity in lieu of gifts. If this is desired, this should also be indicated on the invitation.
Special Instructions
A birthday invitation should always include driving directions to the event's location. Furthermore, if the birthday party is a certain kind of theme party, or a surprise party, this should be indicated on the invitation. This is especially important if it is a surprise party. No one wants to ruin the surprise!
Photo Credits
Pixland/Pixland/Getty Images