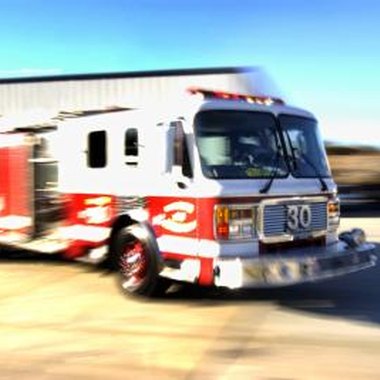 If the topic of interest for your son this week is large trucks, shape the preferences into a memorable birthday party celebration. Integrate games, food, decorations and party favors that adhere to each individual theme and create a large truck play area for children to use during transition times when the host is getting ready for the next party event.
On the Road
Whether tractor-trailers or oversized pickup trucks are the vehicles of choice for your child, you can create a birthday party around them. Rent or borrow child-size battery-powered trucks from friends to integrate truck races as an outdoor party game. Cut semitrailer shapes from folded card stock to create your own party invitations and shape the birthday cake as a long tractor-trailer. Decorate the party room with road signs and a few carpet play mats for children to play trucks on during the party's down time.
Monster Trucks
Create circular tire-shaped invitations for your child's party and decorate with checkered flags because monster trucks often race across damaged cars and dirt hills during their shows. Red, yellow and green stop lights are used to notify the monster truck drivers when to begin the race, so use them to adorn the walls of the party room. Shape a mound of chocolate frosting on a cake and carefully set a toy monster truck as a cake option.
Rescue Vehicles
Fire trucks, ambulances and police SWAT trucks are all large trucks that adhere to a rescue vehicle party theme. Transform a large refrigerator box into a fire truck for guests to play with and re-create a fire truck using a layered rectangular cake spread with red icing and piped with an icing ladder and yellow hose. Make Dalmatian cookies with white icing and chocolate chips and set up a rescue-themed obstacle course as a party game.
Construction Trucks
Pile crumbled cake mixed with chocolate frosting into the back of a large toy dump truck as the cake. Set up orange construction cones around the party room to adhere to the large construction truck theme. Design or print road signs around the room as added decor and use caution tape around the table and door frames. Give each child guest a costume construction vest and hard hat as both a party favor and themed dramatic play option.
Photo Credits
Thinkstock/Comstock/Getty Images