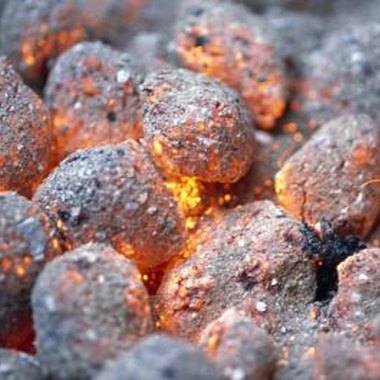 The Big Green Egg takes as its pattern the kamado -- an ancient Oriental clay oven -- and, indeed, the first BGEs were made of clay. The product is distributed by thousands of dealers in more than 20 countries. The Big Green Egg Festival in San Jose, California, is held every year in June. Entry is by one of two tickets; chef or guest. Samples are served all day by amateur and professional chefs, while guests' admission fees include all consultations, samples, soda and beer. Fees are waived for chefs and their families.
Festival Organizers
The Big Green Egg Festival is organized by Eggs by the Bay, a BGE-dedicated outlet located in Santa Clara, California. Aside from all five sizes of Eggs, it stocks a mind-numbing inventory of charcoal, recipe books, rubs and sauces and ingredients. It also keeps the full line -- more than 100 products -- of official BGE accessories. The owners also offer 30-minute sales-floor consultations and full cooking instructionals; both transfer readily to the festival, where culinary classes are carried out at the Eggs by the Bay booth.
Big Green Eggfest
Properly called the "Eggs by the Bay Eggfest," the festival is squarely focused on the Big Green Egg, the Egging community who love to cook on it, and those who are open to conversion. The first Eggfest, in 2005, had more than 125 registered guests. Now registrations are capped at 350, so that the crew can manage the event and ensure all cooking and safety instructions are observed. The Eggfest begins with a meet-and-greet at the official Eggfest Hotel on the Friday preceding the festival, after which the ceremonial Lighting of the Eggs takes place at 9:00 a.m. the following day. The Eggs by the Bay "Egg Store" features BGEs and accessories. A demonstration area conducts free 30-minute classes all day, and the Eggs used at the festival are sold off toward the end of the day at heavily discounted prices.
How the Festival Works
Chefs invest their day cooking and offering samples, as well as explaining why their preferred combination of BGE and accessories is the best. Guests must assume the rigorous duty of tasting as many samples as possible. A registration table is set up near the entry gate, where preregistered chefs are given a name tag and directed to their Egg. Chefs provide coolers, mixing bowls, measuring spoons, tongs and rib racks, as well as ingredients, while the organizers provide a brand-new Egg, ice, paper plates, utensils and napkins. The recipient of the "Eggfest People's Choice" award is determined by attendees, who are given five voting tickets when they pay their admission; guests give a ticket to chefs they think particularly worthy, and a count at the end determines the winner.
On the Day
Guests are advised to arrive before midday; although food is produced between 9 a.m. and 5 p.m., most is ready between 10 a.m. and 2 p.m. Samples and cooks have largely disappeared by late afternoon. Everything imaginable -- appetizers, main courses and desserts -- is available. Pace yourself.
Dishes and Cooking Styles at the Festival
The Big Green Egg's unmatched cooking flexibility is amply illustrated by the range of dishes prepared by festival chefs. High-temperature searing -- a BGE can reach and maintain 750 degrees -- ensures tasty and juicy rare steaks and succulent chops. More moderate temperatures cook whole chickens just like an oven at home, except with a delicious smoky flavor. Low temperatures tenderize then bring to perfection a low-and-slow 10-hour brisket. Of course, smoking for 24 hours straight over a favorite combination of smoldering wood is probably the favorite method of cooking barbecued food. All these ideas are likely to be demonstrated at the festival, and many more besides.
The Big Green Egg
The Big Green Egg is an American-designed, ceramic-walled barbecue cooker, grill, oven and smoker. The structural material has a number of benefits over traditional metal construction: It retains heat well and almost eliminates hot spots; it is extremely fuel efficient, so much so that there is seldom a need to add more charcoal through any cooking process, and it can withstand extremely high temperatures without distortion or failure. Of course, it does not rust. Because of the achievable high temperatures, the BGE can be used for searing steaks, so that they remain juicy, yet its ability to maintain a low temperature over a long period makes possible baking, slow cooking and even brick-oven recipes.
Resources
Photo Credits
Goodshoot/Goodshoot/Getty Images