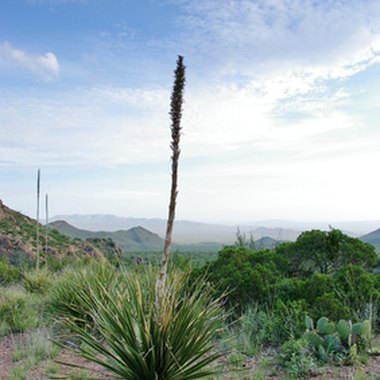 The Big Bend region of Texas is home to two large parks, Big Bend National Park and Big Bend Ranch State Park, which share the same arid landscape of the Chihuahuan Desert. Visitors to the Big Bend region who want to stay inside these vast parks and avoid the rigors of camping out in the desert will find that both have other options for lodging.
Chisos Mountains Lodge
At an elevation of 5,400 feet, in the shadow of the Casa Grande Peak, Chisos Mountains Lodge is the only source of accommodations in Big Bend National Park that does not entail camping. Frommer's rated it as "highly recommended" and described the lodge as "the best place to stay while exploring Big Bend." Accommodations consist of rental cottages, 38 midrange hotel-style rooms in the main lodge, and 20 rooms in an adjacent motel building. The cottages, which Frommer's described as "delightful," have stone floors, rustic wood furniture and covered porches with sweeping views.
Around Chisos Lodge
The lodge is part of a major services complex within Big Bend National Park, which includes a restaurant that serves a Tex-Mex menu all day and also makes box lunches for hikers. Hiking trails extend out from the lodge to the north and south. The northward trail is a 3.5-mile loop to the geological feature known as "The Window," and the southward trails go past Emory Peak and the split to go down into Juniper Canyon, up to the South Rim, or off toward the Homer Wilson Ranch.
Sauceda Lodge
The Sauceda Lodge of Big Bend Ranch State Park has two very different sets of accommodations. The Sauceda ranch house is a historic building dating to 1908 but appointed in a modern and comfortable fashion. Often referred to simply as "The Big House," it has three bedrooms available. The entire house can be rented, but the rooms are usually available separately, like hotel rooms. The lodge also has a bunkhouse, which is furnished in a more rustic fashion, with accommodations for each gender in separate bunk rooms.
Around Sauceda
The lodgings at Sauceda are part of a state historic district preserving what used to be an old cattle and sheep ranch, with a wool barn, tack room, corrals and other farm buildings situated around the Big House and the Bunkhouse. Meals are available at the lodge, but only with advance reservations. Hiking trails from the Sauceda Lodge area lead to the campgrounds at Los Ojitos and Tascate, and from there into sights such as the Leyva Canyon.
Photo Credits
big bend sotol cactus image by Larry Allen from Fotolia.com