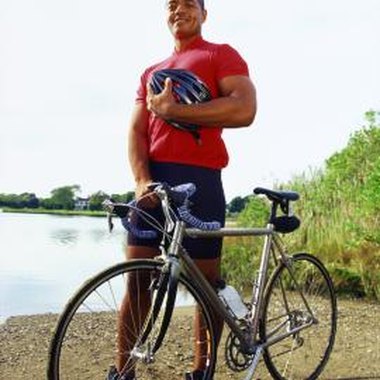 The Rails-to-Trails Conservancy (railstotrails.org) is a nationwide nonprofit organization 150,000 members strong based in Washington, D.C. Its mission is to create trails along former railroad tracks for hiking and biking purposes. The growing system consists of 19,000 rail-trails as of the date of publication. The Conservancy is dedicated to the purpose of enhancing the health of the environment, neighborhoods and individuals and has plans for another 9,000 miles of trails. Some of these trails accommodate bikers in the Piermont, New York, area.
The Hook Mountain/Nyack Beach Trail
The Hook Mountain/Nyack Beach Trail wasn't built by the Conservancy but is part of the network of trails supported by it. It's a flat, scenic trail that runs along the Hudson River. The southern terrain is suitable for beginning bikers. As it travels north the landscape is hilly and rocky. Only experienced bikers should ride along the cliffs. Both segments of the trail offer views of the Hudson River and Palisades Cliffs. The total length is five miles and is also suitable for horseback riding, walking and cross-country skiing.
Old Erie Path
The Old Erie Path is a three-mile trail that connects to two other trails along the Hudson River. It can be accessed in Piermont, Nyack and Sparkill. The surface is rough but suitable for hybrid or mountain biking and walking. The railways were built into the steep hills along the river, which can be accessed by handmade stairways with rails fashioned from the native trees. As the trail passes through Piermont, bikers will find the Piermont train station where they can learn about railroad history.
Joseph B. Clark Trail
The Joseph B. Clark trail picks up where the Old Erie Path ends along Piermont Avenue. Terrains include asphalt, gravel and dirt during its three-mile length. Bikers, rollerbladers and walkers use this trail. Users should be cautious as this trail features bridges and street crossings.
Tallman Mountain State Park Bike Path
The Tallman Mountain State Park Bike Path is a Greenway trail supported by the Conservancy. It begins on an easterly slope of the Palisades and ends two miles away in downtown Piermont. The trail is made up of asphalt, dirt and cinder and is used by bikers, walkers and skiers. Small inclines are part of this trail that winds through Tallman Mountain State Park with views of the Hudson and Piermont Marsh.
Photo Credits
Creatas/Creatas/Getty Images