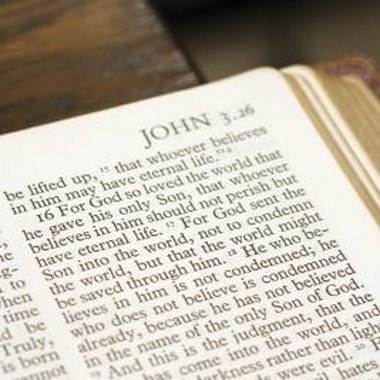 A parade that celebrates Christianity and, specifically, the Bible, the Biblesta Parade has been held in Humboldt, Kansas, since 1958. The parade's name is a combination of "Bible" and "fiesta," and the event offers participants a festive way to celebrate the Christian faith. Since its inception, the parade has grown to a full-day celebration complete with music, children's activities and even free food.
Parade
The parade remains the main event of Biblesta festival, which occurs annually on the first Saturday in October. While other festivities begin as early as 10:30 a.m., the parade doesn't start until the afternoon. The procession consists mainly of floats that depict Bible verses, walking participants elaborately dressed as famous biblical characters, marching bands playing familiar Christian music and even equestrian units dressed to fit in with the biblical theme. Spectators may watch the parade, which winds through the city streets and ends up in the city square, for free. Biblesta activities continue in the square.
Music
Besides the marching bands that play during the parade procession, Biblesta also features a number of other musical acts throughout the one-day event. All music is performed by Christian groups, and typical acts include community choirs, gospel troupes and Christian rock acts. All musical events are free and open to the public, and concerts typically begin in the morning and continue through early evening.
Children's Activities
Biblesta also features a number of activities intended to entertain kids. This includes a petting zoo and pony rides throughout the day. Additionally, Bible school is available for free to any interested child at the festival. For older kids and teenagers, Biblesta also hosts a religious meet-up after the traditional event, known as Biblesta After Dark Youth Rally. Here, kids share stories and strengthen their faith while staying out late. The rally typically runs from early to late evening, right after the Biblesta free bean dinner.
Food
Food is another big attraction at the Biblesta Parade and festival. Each year, participants and attendees are welcomed to enjoy a free ham and bean dinner, and festival organizers typically go through hundreds of pounds of beans in order to satisfy all hungry guests. Organizers do request that each person brings his or her own bowl. Biblesta also features other festival foods for sale throughout the day.
Photo Credits
Jupiterimages/Comstock/Getty Images