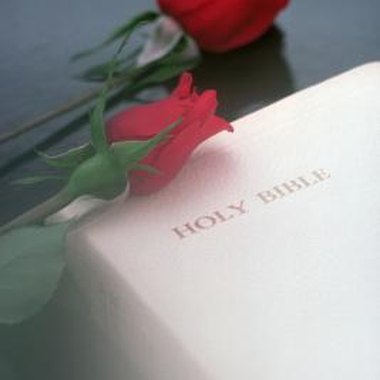 A 100th birthday is a remarkable milestone that few achieve. If the celebrant is spiritually inclined, including a Bible verse with their party invitation would be a thoughtful touch. The Bible has a number of verses that speak of old age and would be appropriate for a birthday invitation. Look at different translations of the Bible to find the wording that best suits the style of your invitation.
Wisdom
The following verses speak of the wisdom of the elderly and remind those invited to heed and cherish the words and life of the celebrant. Job 12:12 (New International Version) Is not wisdom found among the aged? Does not long life bring understanding? Deuteronomy 32:7 (New Living Translation) Remember the days of long ago; think about the generations past. Ask your father, and he will inform you. Inquire of your elders, and they will tell you. Psalm 143:5 (King James Version) I remember the days of old; I meditate on all thy works; I muse on the work of thy hands.
God's Grace
The celebrant may have looked to spiritual avenues to sustain her through the years. These verses talk of the role of God's grace in an elderly person's life. Isaiah 46:4 (New Living Translation) I will be your God throughout your lifetime -- until your hair is white with age. I made you, and I will care for you. I will carry you along and save you. Psalm 71:17 (King James Version) O God, thou hast taught me from my youth: and hitherto have I declared thy wondrous works. 1 Kings 3:14 (New Living Translation) And if you follow me and obey my decrees and my commands as your father, David, did, I will give you a long life. Psalm 91:15-16 (Jewish Publication Society) He shall call upon Me, and I will answer him; I will be with him in trouble; I will deliver him and bring him to honor. With long life I will satisfy him and make him to behold My salvation.
Respect
Honor the celebrant with a Bible verse that reminds those invited to respect the elderly. Leviticus 19:32 (New International Version) Stand up in the presence of the aged, show respect for the elderly and revere your God.
Celebration
100 years of living is a huge reason to celebrate. Consider using a Bible verse that invites those attending to rejoice and enjoy the long and fruitful life of the celebrant. Proverbs 16:31 (New International Version) Gray hair is a crown of splendor; it is attained in the way of righteousness. Psalm 92:14 (New International Version) They will still bear fruit in old age, they will stay fresh and green.
Photo Credits
Comstock/Comstock/Getty Images