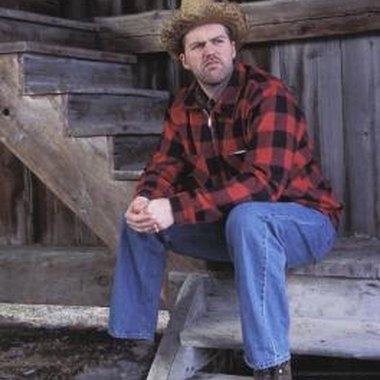 Nobody can forget the memorable characters from the television show "The Beverly Hillbillies." Granny, Jed, Jethro and Elly Mae captured the hearts of viewers from 1962 to 1971, as we laughed at the foibles that occurred as they adjusted to city living. When you want to host a down-home shindig that brings out the country side of your guests, break out the moonshine and throw a "Beverly Hillbillies" bash.
Costumes
The only way to have an authentic hillbilly party is to insist that your guests dress the part. Split your guest list in two, and request that half the invitees come dressed as Beverly Hills socialites, moguls and movie stars and the others come in their best hillbilly attire. Your hillbilly guests should wear clothing such as cutoff shorts, halter tops, plaid flannel shirts, bib overalls, rope belts and hunting gear. Shoes are definitely optional for the hillbilly guests.
Location
When it comes to location, a "Beverly Hillbillies" party is best enjoyed in a country setting. In a secluded setting, your guests can bring their BB guns and fire off shots at the strategically placed beer cans as fast as they can empty them. Alternatively, hold your party at a private swimming pool similar to the one the Clampetts had at their home. Create and hang a banner welcoming your guest to the "cement pond" and enjoy a day or evening of aquatic pursuits.
Cuisine
A "Beverly Hillbillies" party cries out for a variety of delightful delicacies. Alternate platters of fancy hors d'oeuvres, similar to those that Mr. Drysdale would serve, with homemade, potluck dishes of the simplest variety. Make place cards to set in front of the food, and label them with names such as "squirrel thighs" for chicken wings and "possum burgers" instead of hamburgers. Serve other Southern favorites like deviled eggs, baked beans, coleslaw and cheesy potatoes.
Music
Every party needs music to set the mood and a "Beverly Hillbillies" party is no different. Hire a live country music band to serenade your guests with old favorites and new hits. Bluegrass is often a hit with country folk, especially if you choose a band with a fiddle and a couple of banjos. Invite your guests to sing along to the songs they know and to cut a rug to those with a rhythmic beat.
References
Photo Credits
Hemera Technologies/AbleStock.com/Getty Images