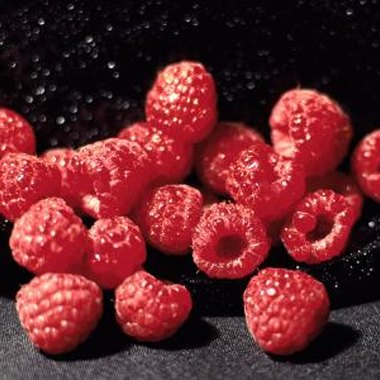 Saint Joseph is a beach town on Lake Michigan in the southwest corner of Michigan. The city is home to a you-pick farm that grows berries, cherries, peaches, grapes and apples. Berry picking can be a family activity, or simply an inexpensive way to purchase large amounts of fresh fruit for home use.
Nye's Apple Barn
Nye's Apple Barn (nyesapplebarn.com) in St. Joseph is part of Nye farms, a family-owned operation since the 1800s. The apple barn provides a place to sell produce grown on Nye's farms, and serves as a you-pick location for some of the fruits. Visitors can pick raspberries and blackberries each summer. Nye's Apple Barn also sells foods made from fresh produce and cookbooks with recipes using fresh berries and other fruit. Nye's website features recipes for using the fruit you pick at the farm.
Berry Farms Near Saint Joseph
Several more you-pick berry farms are within a 25-mile drive from Saint Joseph. The nearest is The Extraordinary Berry (theextraordinaryberry.com) in Riverside, about nine miles north of Saint Joseph. Other nearby farms and orchards with berries include Jollay Orchards (jollayorchards.com), 13 miles northeast in Coloma; Jones Berry Farm (jonesberryfarm.com), 13 miles south in Bridgeman; Stover's Farm Market & U-Pic (stoversupic.com), 15 miles southeast in Berrien Springs; The Blueberry Patch (no website; 7015 Blackwell Dr., Sawyer, Michigan; 269-426-4521), 17 miles south; Frank Farms (frankfarms.com), 18 miles southeast in Berrien Center; Twin Maple Orchards (no website; 15352 Cleveland Ave.; Galien, Michigan.; 269-545-8840), 22 miles south; and Adams Farm (no website; 69676 CR 376, Hartford, Michigan; 269-214-0873) 23 miles north.
When to Pick
Harvest times vary for different berries, but most are ready to pick during the late spring and summer. Seasons may begin at different times year to year, so pickers should call the you-pick farm before heading out. Strawberries are typically ready in late May or early June. Blueberries are ready in early July. Raspberries, both red and black, are ready to pick around the Fourth of July holiday and blackberry harvest typically begins around mid-August. Visitors can call for daily berry picking times. Berry prices may vary, depending on crop yield that year.
You-Pick Tips
Pickers can ensure a safe, successful trip by following a few guidelines: Before showing up at the farm, call ahead to confirm that berry picking is available. Use the containers that the farm provides if they're free, but consider bringing your own if there is a charge. Wear appropriate clothing, which includes hats to shade from the sun, and tennis shoes or other comfortable athletic shoes. Old clothing is best because it may get stained or torn while picking. Bring sunscreen and insect repellent. Even if it isn't sunny when you begin, the sun can pop out later. Make sure everyone in your picking party knows how to identify ripe berries. If you're not sure, ask someone who works at the farm. Supervise any children you bring, especially those younger than 10. Bring water or sports drinks to stay hydrated. Picking can be an all-day event.
Resources
Photo Credits
Jupiterimages/liquidlibrary/Getty Images