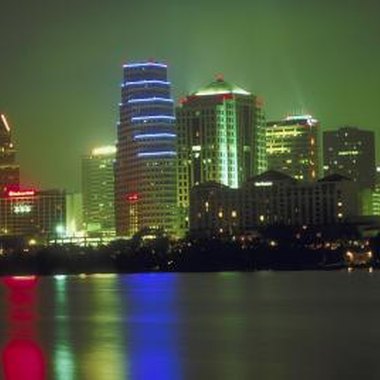 Austin, the capital city of Texas, is a trending city in which to live due to an expansive list of reasons. Austin is continuously receiving accolades for its forward-moving attitude, earning spots on lists from PETA's "Top 10 Vegetarian/Vegan-Friendly Large Cities" to Forbes' "Top 30 Most-Wired American Cities." If you're planning a move to Austin, the experts are on your side; the city was also ranked first among Relocation.com's 2009 list of "Top Cities for a Fresh Start."
Population and Social Profile
The city of Austin, home to more than 1.5 million people, has experienced a population growth of over 17 percent since 2000. Its citizens are relatively young, on average -- with a median age of about 30 -- and predominantly white, according the U.S. Census Bureau. Approximately 45 percent of Austin's citizens affiliate themselves with a particular religion; Catholicism (22 percent) is the largest denomination in the area. The majority of Austin residents, about 64 percent, are registered Democrats.
Job Market
Austin has been experiencing a great deal of job growth, particularly in technology-related fields due to major industry hubs located in the city. Austin's unemployment rate has lowered accordingly beyond the national average -- approximately 7 percent compared to the nation's 9 percent as of 2010 -- with a city-wide annual median income of more than $50,000. Creative fields employ a large percentage of the city's workers, approximately 37 percent. As the population grows, competition may increase among the highly educated Austin workforce; over 43 percent of the city's population 25 and over has earned at least a bachelor's degree.
Housing and Cost of Living
The ACCRA Cost of Living Index estimates the cost of living in Austin at just below the national average, using a 95.5 index rating compared to 100 for the national average; additionally, Texas law requires no taxes paid on personal income. According to the National Associations of Realtors and Home Builders, the median house cost in Austin is between $184,000 and $193,600, slightly above the U.S. median cost of $175,000.
Weather
Austin boasts over 300 days of sunshine a year. Winter highs hover near 60 degrees Fahrenheit, while summer temperatures typically reach the low 90s; July is typically Austin's warmest month with an average maximum temperature of 95 degrees. Spring and fall temperatures are mild. The average daily high is approximately 85 degrees, so outdoor activities are abundant and readily enjoyed by Austin residents throughout the year. Winds are generally calm, and May is the rainiest month with an average of five inches of precipitation.
Family Friendliness
Ranked second on Parenting's "2011 Best Cities for Families" list, Austin has all-ages appeal. Public activities for children include year-round city pools and over 20,000 acres of parks. Austin public schools as a whole rate 6 out 10 based on test results, according to GreatSchools.org. According to FBI crime reports, Austin's crime rate is similar to those of similarly sized communities, but compared to all communities in the country, the crime rate is quite high, with crimes occurring at a rate of 70 incidents per 1,000 residents. Property crime is among the most common crimes in Austin; chances of such an incident are 1 in 16.
Culture
Known for its progressive, open-minded atmosphere, Austin attracts many artists and free thinkers. Besides leading other major cities in clean energy and green city planning, Austin is widely regarded for its tech-savviness. The city has dubbed itself the "live music capital of the world," hosting such annual events as the South by Southwest music and film festival and Austin City Limits Music Festival. With a strong GLBT -- gay, lesbian, bisexual and transgender -- community, Austin has annual events such as the Gay Pride Parade and the Austin Gay & Lesbian International Film Festival. The University of Texas - Austin, is one of the largest colleges in the nation; life on campus, near downtown Austin, includes Division 1 sporting events and Greek activities.
Photo Credits
Hemera Technologies/AbleStock.com/Getty Images