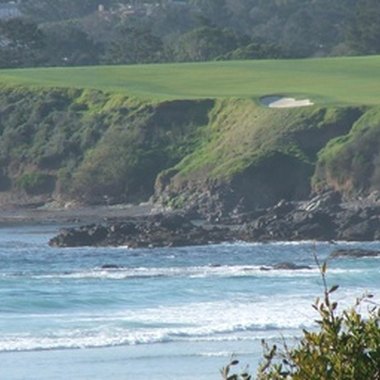 Travelers to California's coastline frequently notice that beaches become less crowded and more rugged when traveling north from Southern California's high-energy urban beaches. Carmel is no exception: Beaches here are serene and quiet. A convenient gateway to nearby Sonoma and Napa Valley, Carmel's artist-friendly community stocks the area's numerous art galleries with paintings, sculptures and craft pieces. First established as a planned beach resort in the late 1880s, Carmel today offers upscale shops, restaurants and boutiques. Staying at a bed and breakfast hotel or motel in Carmel can be a cozy way to experience the seaside town.
Romantic
Carmel, frequently a destination for honeymooners and lovebirds, has its share of romantic bed and breakfast hotels. At the Sandpiper Inn, romantic packages include couples massages, day trips to nearby attractions including Big Sur and Hearst Castle, wine-tasting tours in Monterey Wine Country and, for the adventurous, surf lessons in Carmel's chilly waters. Amenities include flashlights for moonlight walks, rooms with fireplaces, afternoon tea and cookies and a garden courtyard. Breakfast can be served in bed, in the hotel's dining room or outside on the patio. Continental breakfast includes warm pastry dishes, fruit, yogurt and granola.
Picnic
Carmel's windswept beaches and unspoiled nature trails make ideal picnic spots, and guests at the Carmel Country Inn can book picnic packages featuring a deli lunch, bottled water, picnic blanket and souvenir picnic basket designed to collapse neatly for luggage storing. Extras available for purchase include chilled champagne, lavender gift baskets and locally baked specialty cakes. Country-style breakfast includes baked goods, cereal, granola, oatmeal, fruit and hot chocolate. Pets are allowed, but kids under age 6 must stay home.
Affordable
Upscale Carmel's answer to motel accommodations is the Horizon Inn & Oceanview Lodge, a rather high-end choice. Some rooms have ocean views, balconies, wood-burning fireplaces and fully equipped kitchens. There's an outdoor courtyard and hot tub, and the family-owned enterprise can help book trips to the nearby aquarium and other attractions. Free continental breakfast, parking, wireless Internet and local newspaper comprise additional perks.
Cozy Comforts
Carmel's beaches are known for their thick, gusting marine fogs that can envelope the community for days at a time. At the Candlelight Inn motel, snuggle up before in-room fireplaces while munching on home-baked cookies. Complimentary amenities include parking, newspapers, continental breakfast and wireless Internet. Families will have plenty of room in the larger suites, which feature three double beds for comfortable sleeping. Guests can request rooms with whirlpool tubs, bath robes and bath salts.
Photo Credits
l'océan pacifique vue de carmel, california image by sébastien marassoglou from Fotolia.com