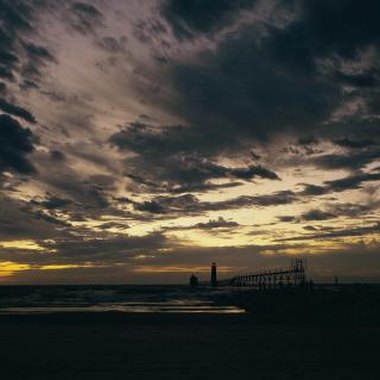 Surrounded by four of the five Great Lakes, Michigan's natural beauty includes wild beaches, deep forests and rural islands scattered across the state. Visitors hike narrow wooded trails, paddle on serene expanses of Michigan's lakes, sample homemade berry piesand snowshoe through quiet meadows during winter. After the wholesome outdoor fun, retreat to one of Michigan's quaint bed and breakfast hotels. Many remain family operations, with knowledgeable hotel staff to help orchestrate the trip's activities.
Kalamazoo
Constructed in 1895 and listed on the National Registry of Historic Places, the hilltop Henderson Castle in Kalamazoo, Michigan, offers views of the city, a rooftop hot tub, and rooms decorated to resemble different parts of the world. Themes include Dutch, Italian, French and Tibetan. Rooms feature heated wooden or marble floors, and hotel amenities include marble steam room, massages, a ballroom art gallery and three acres of orchards for wandering around. The hosts serve a complimentary hot breakfast.
Big Bay
The tiny town of Big Bay, Michigan, boasts a population of 320 people, with convenient access to the area's canoeing, hiking, mountain biking and rock climbing activities in the nearby Huron Mountains. During summer, visitors attend the town's numerous arts and music festivals. Forty acres of wooded trails surround the Big Bay Point Lighthouse bed and breakfast, where guests ascend to the lighthouse lantern 120 feet above Lake Superior to view pine forests, meadows of wildflowers and the aurora borealis. The bed and breakfast offers a library, sauna and fireplace.
Muskegon
Located on the bluffs of Muskegon Lake, about five minutes from Lake Michigan, the Port City Victorian Inn was built in 1877. Rooms feature lake views and park views, Blu-ray DVD players, four-poster beds, sleigh beds and whirlpool tubs. Country breakfasts include casseroles, eggs, buttermilk pancakes, homemade jellyrolls and baked oatmeal. Area activities include boating, visiting the Manistee National Forest, birdwatching at the Muskegon Lake Nature Preserve, visiting the Muskegon Museum of Art, or renting vehicles to explore the nearby off-road vehicle trails.
Bellaire
Bellaire, Michigan, offers convenient access to the state's Great Lakes, including Lake Michigan. Originally built for an 1890s-era bride-to-be, the Grand Victorian Bed & Breakfast Inn was eventually included on the National Registry of Historic Places. The property features hand-carved woodwork, chandeliers, fireplaces, porches and a cupola. Rooms include king-size beds, fireplaces, Jacuzzi bathtubs, DVD players and balconies. Special breakfast treats include puff pancakes, homemade mango-pear crisps, apple-orange pastries and German apple bread. In town, visitors have access to seasonal festivals, golf, walking paths and boat shows.
Photo Credits
Digital Vision./Digital Vision/Getty Images