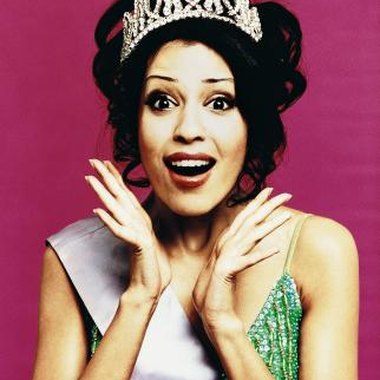 Whether you are looking for a beauty pageant for children, teens, adults, men or women, the Myrtle Beach, South Carolina, area offers plenty from which to choose. Although these pageants are not crowning Miss Universe, several of the beauty pageants in Myrtle Beach provide stepping-stones for women wishing to move on to prominent competitions such as the Miss America pageant. Other pageants in the sunny, beach city offer scholarship opportunities, raise money for charities or simply provide a fun experience.
Miss Myrtle Beach Scholarship Pageant
The Miss Myrtle Beach Scholarship Pageant (misssouthcarolinausa.com), held at Coastal Carolina University in Myrtle Beach, offers competitors not only a chance for a crown but also the chance to win a $25,000 scholarship at the time of publication. The pageant is also the official preliminary pageant for the Miss South Carolina Organization and the Miss America Organization. The purpose of the competition is to help nurture young women grow in self-confidence, beauty, talent and education.
Miss Sun Fun Pageant
The Miss Sun Fun Pageant and Miss Teen Sun Fun USA Pageant (rpmproductions.com) also are preliminary pageants to the Miss America Organization. Both pageants take place at the annual Sun Fun Festival in Myrtle Beach, which has been held each summer for nearly 60 years. At the time of publication, the adult pageant has eight female contestants and the teen pageant has 12 female contestants. The competitions are held at Grand Park at the Market Common.
American Royalty Beauty Pageants
American Royalty Beauty Pageants (americanroyaltypageants.com) holds a Myrtle Beach swimsuit beach pageant for girls up to the age of 11. At the time of publication, the pageant is held annually in June at the Comfort Suites in Myrtle Beach. Girls wear makeup, modest swimsuits and cover-ups and are judged on beauty, smile and personality. Winners receive a sash, crown and a gift. The pageant also holds additional competitions for winning toys and other prizes.
Mr. Myrtle Beach
Not all beauty pageants are for females, and the annual Mr. Myrtle Beach Man Pageant (myrtlebeachshows.com) proves just that. At the time of publication, the event takes place in September at the Myrtle Beach Market Common. Judged on talent and fashion, men compete to win the Mr. Myrtle Beach title and help a good cause. Proceeds from the event go to the nonprofit organization Katie's Project, which helps underprivileged teen girls purchase prom dresses or formal event attire.
Photo Credits
Digital Vision./Digital Vision/Getty Images