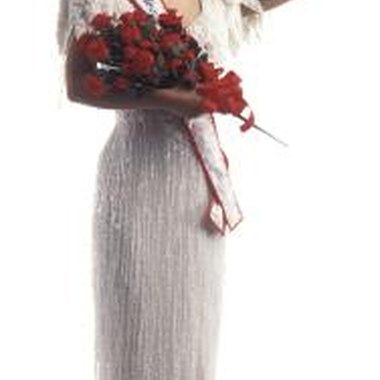 Beauty pageant games are a fun way for young girls to role play life as pageant queens. Whether they are acting out a pageant using dress-up clothing and accessories or creating pageant queens on video games, there is sure to be a beauty pageant game that is appealing to your young girl.
Video Games
Beauty pageant video games typically involve creating outfits for and dressing up characters. Players can usually change out their character's outfit, add accessories, style hair and apply makeup. Depending on the specific game, players are required to perform various activities to advance to higher levels, where they are usually rewarded with new hairstyles, cosmetics and accessories.
Board Games
Board games, such as The Miss America Pageant Game, allow players to compete in imaginative pageant competitions by making their way around a game board or by reading cards. This game requires players to move through a series of pageant competitions, including swimsuit, talent, personality and evening gown. The first person to make it to the end of the game is crowned pageant queen.
Dress Up Games
Young girls may enjoy recreating a beauty pageant using dress-up clothing. Provide girls with a variety of princess-style dresses, jewelry, dress-up shoes, make up and hair accessories, and allow them to select what they want to wear. Girls can do their own hair and make up, or you could recruit adults to do this part for them. Once the girls are ready, have them walk around in a single file line to show off their outfits.
Pageant Parties
Adults also enjoy beauty pageants, and if you plan to host a pageant viewing party at your home during a televised pageant, you and your guests may enjoy playing "You Be The Judge." Provide guests with photos of each of the pageant contestants and a form to record who they think will make it to the Top Ten and Top Five and who will ultimately win. Other categories can include Best Eyes, Best Evening Gown, and Best Interview Answer. Afterward, watch the pageant and see which guest's guesses were the closest.
Photo Credits
Photodisc/Photodisc/Getty Images