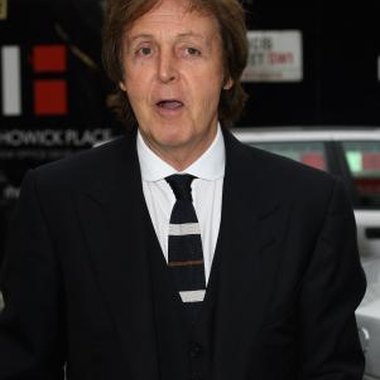 The Beatles burst onto the music scene in the early '60s out of Liverpool, and changed the world of pop music forever. Elvis Presley preceded them, but The Beatles became one of the biggest groups in history. Their influence on successive artists is immeasurable. Other bands constantly name them as a source of inspiration. Their music continues to enthrall and engage each new generation of listeners.
Beatlemania
While Elvis Presley and many other artists from the '50s created hysteria and frenzy among fans, The Beatles reminded the world that the word "fan" is a shortened version of "fanatic." Chaotic masses greeted the group wherever they went, particularly in America, where Beatlemania was exceedingly rampant. The almost riotous response from the public would alter the landscape of pop music as far as devotees were concerned. The maniacal reaction of fans to countless artists and bands continues to this day.
"Cites the Beatles as a Major Influence"
The influence of the Beatles on their contemporaries and the bands that would follow them is massive. Brian Wilson famously mentioned how The Beatles directly motivated his work, and the Beatles returned the sentiment regarding The Beach Boys. Decade after decade and artist after artist, The Beatles are given mention as a heavy, if not primary musical influence. Artists like Elton John, Pink Floyd and Ozzy Osbourne have cited the band as a huge influence. Oasis, and in particular Noel Gallagher, has made no secret of the tremendous influence of The Beatles' on his band and his songwriting.
The British Invasion
The Beatles led "The British Invasion." The phrase refers to the arrival in America of numerous bands from the UK. The "invasion," however, wasn't strictly relegated to the United States. The Beatles had a global impact on music and pop culture. The Beatles were the first band to achieve true international success. While their popularity was at its greatest in America, they were a phenomenon all over the world.
New Ground
The choices the Beatles made during their career directly correlate to the emergence of a more independent mindset in popular music. Of course, this is most evident in the music itself. Their landmark releases "Rubber Soul," "Revolver," "Sgt. Pepper's Lonely Hearts Club Band," "The Beatles (White Album)" and "Abbey Road" collectively revolutionized the format of an album. They experimented with new sounds and different genres. Less significant than their music but important nevertheless, the band's appearance evolved. They went from the iconic suits, haircuts and Cuban heels of the early years to the more boisterous, shaggy psychedelic chic of the latter years. The Beatles inspired artists to view their own potential body of work as an ongoing conversation, not a case that has already closed.
Photo Credits
Danny Martindale/Getty Images Entertainment/Getty Images