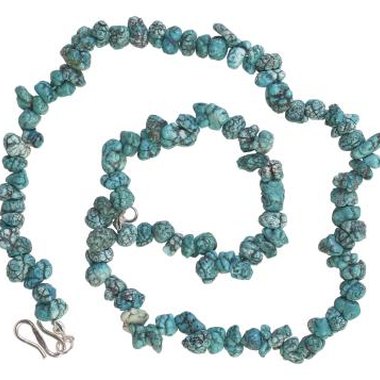 If you have a creative daughter who loves making jewelry, throw her a beading birthday party. A beading party provides the perfect activity for preteen and teen girls because they get to talk or listen to music while making pretty keepsakes. Supplying the materials for this type of low-key party is fairly inexpensive.
Preparation
Take the birthday girl to a craft store to pick out her favorite beads, as well as special beads for each guest. For example, buy beads decorated with initials that match each girl's name. Prepare storage containers for each guest. Fill the containers with beads, beading thread and clasps, as well as scissors to cut the thread.
Activities
Your guests can make everything from necklaces, bracelets and anklets to chokers and beaded key chains. Provide a beading tray for each girl so she can design her piece of jewelry before stringing the beads. You won't need to provide much direction -- just let your guests come up with their own designs. Give each girl an organza bag so she can take her creations home. Place extra beads in each favor bag so your guests can make more jewelry after the party's over.
Decorations
Use bright, sparkly decorations for your beading birthday party. Set up the beading table with a white tablecloth covered in confetti. Add a chair and beading supplies for each guest. Fill the room with balloons and streamers in bright colors, such as hot pink, turquoise and fuchsia. Hang a banner with the birthday girl's name for a nice addition to your party space. Place pillows around the room in case your guests want to take a break from their beading activities. Play the birthday girl's favorite music in the background.
Food
Serve simple foods during your beading birthday party, such as pizza and finger foods. Provide easy-to-eat snack foods, such as candy, veggie and fruit trays, and trail mix. Serve cupcakes, ice cream sundaes or birthday cake for dessert, depending on the guest of honor's preferences.
Photo Credits
Hemera Technologies/PhotoObjects.net/Getty Images