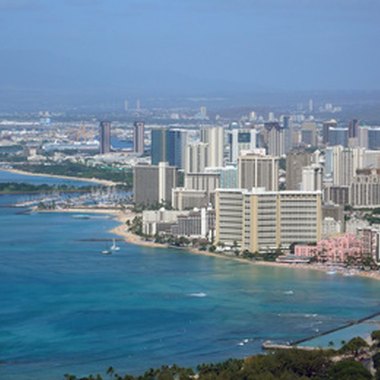 Generations of visitors have enjoyed the tropical beauty of Waikiki's sands, from the day the first sailing vessels arrived in Honolulu. The balmy weather, languid waters, gentle surf and stunning presence of Diamond Head have provided an iconic backdrop for a select few Waikiki hotels located directly beachfront. Because of their premium locations and rich histories, these exclusive hotels command the highest room tariffs on the spectrum.
Moana Surfrider, a Westin Resort & Spa
Gracious and stately, and replete with Roman columns, the Moana Surfrider beckons legions of guests who come to enjoy its elegant combination of vintage Old Hawaii and modern luxury. Constructed in 1901, the Surfrider was one of the first hotel properties built on what is now a highly coveted location. Tropical hardwoods combined with white exteriors create a setting that evokes another era. Facing the rush of Kalakaua Avenue on one side and the hot sands of Waikiki on the other, the Surfrider offers lovely gardens and the kinds of luxury amenities guests expect from a property of its caliber.
The Outrigger Waikiki on the Beach
Built in 1967, The Outrigger Waikiki on the Beach features a deluxe beachfront location and several on-site restaurants, including the original Duke's -- inspired by Hawaiian legend, Olympic swimmer and Hawaii national treasure Duke Kahanamoku -- which offers surprisingly reasonable fare ($10.95 for a cheeseburger and fries as of 2010) as well as Sunday buffet for only $14.95. The hotel features lobby artwork by cherished artist Herb Kane, perpetuating and promoting an authentic appreciation for Hawaii's unique heritage and culture.
Sheraton Waikiki Hotel
The Sheraton Waikiki Hotel is a favorite among residents and guests who prefer a sophisticated resort property in one of the premier Waikiki locations, right on the sand. The intricate network of pools, including the infinity edge, where guests can hang over the Waikiki walking path to people watch, are a particular highlight. Eighty percent of the rooms offer ocean-front views. One of Honolulu's hottest clubs, the Sheraton's Rum Fire offers the largest selection of rums in the country, along with wrought-iron decor, fire pits and dancing to live bands. The restaurant gives guests stellar views of Diamond Head.
Halekulani
Named "home befitting heaven," in Hawaiian, Halekulani comes very close to being just that: a tropical paradise on earth. The choice of the rich and famous, Halekulani has set the standard for traditional Honolulu and Waikiki Beach luxury for more than 100 years. The hotel was developed from a group of five small bungalows on the beach into the building that serves as the hotel's lobby to this day. Experience the original eucalyptus floors, lit by a modern skylight that yields soft colors and light across a lobby cooled by balmy trades. Luxury room amenities including glass-blocked showers, deep soaking bathtubs, marble entries and vanities, contributing to a sense of upscale comfort that more than exceeds the expectations of guests seeking the highest-caliber beachfront hotel experience.
Photo Credits
View of Honolulu image by Katja Sucker from Fotolia.com