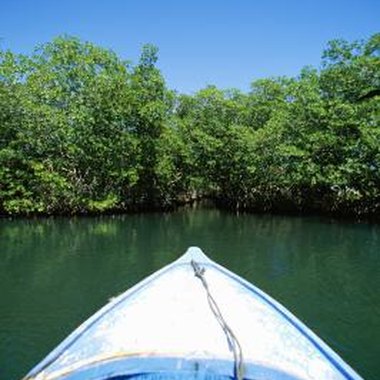 Lake Yojoa is a freshwater lake in Honduras that is formed over a volcano. The lake also features natural waterfalls and is a popular destination for hikers and fishermen. The lake is situated in the western part of the country between the cities of Tegucigalpa and San Pedro Sula and offers many recreational and boating opportunities, as well as a natural habitat. Although you won't find any beaches on the lake, the lake does offer swimming opportunities and several white-sand beaches just a short drive away.
Lake Yojoa
If you don't mind giving up the sand, Lake Yojoa offers plenty of relaxing settings to sunbathe, swim, boat, fish, hike and view the natural surroundings and tropical environment. Lake Yojoa also offers plenty of birdwatching opportunities, as there are a variety of tropical water birds in the lake area. Just a few miles from Lake Yojoa, visit Santa Barbara, a colonial town with a historic cathedral and town square.
Pulhapanzak Waterfalls
While visiting Lake Yojoa, get a glimpse of the Pulhapanzak waterfalls. Although the waterfalls are not located on a sandy beach, the beauty of the waterfalls should make up for it. Pulhapanzak is the largest waterfall in Honduras, with a drop of approximately 140 feet. It is only 30 feet shorter than the Niagara Falls in Canada. Behind the waterfall sits a hidden cave as well as several swimming holes that are accessible to the public.
Tela Beach in Punta Sal National Park
The closest beach to Lake Yojoa is Tela Beach, which sits north of Lake Yojoa in Punta Sal National Park. This is a popular beach frequented by locals and tourists. Tela is a Caribbean coastal town with wide, white-sand beaches. Nearby, you'll find the Lancetilla Botanical Gardens, which are known for a wide variety of tropical trees. There are also plenty of sightseeing opportunities in Punta Sal National Park, which features a tropical environment.
La Ceiba
La Ceiba sits to the east of Tela and the northeast of Lake Yojoa. It is the largest Caribbean coastal town in the country and is also a popular tourist beach, featuring a plethora of restaurants, nightclubs and shopping. From the white-sand beach, visitors get a view of Pico Bonito Mountain. Several smaller beaches nearby are available for people who wish to avoid the crowds. La Ceiba is also home to a variety of banana and pineapple plantations.
Photo Credits
Brand X Pictures/Brand X Pictures/Getty Images