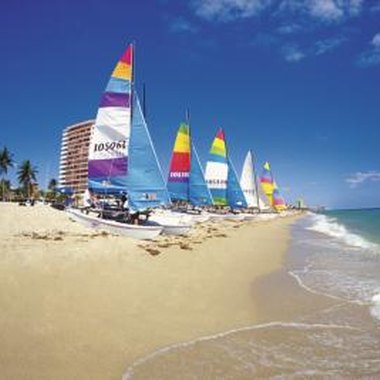 Coconut Creek, Florida is a city of about 50,000 people, located about six miles from Florida's Atlantic coast. The close proximity to the coast offers residents and visitors easy access to one of several beaches located along the ocean front.
Pompano Beach
Located directly east of Coconut Creek, Pompano Beach offers the closest beach option. The beach covers approximately 25 square miles of ocean frontage and bears its name from the fish that frequent the waters nearby. Pompano Beach offers visitors a wide range of sporting activities, such as scuba diving, boating and surfing. For visitors who want to participate in activities away from the beach, golf courses, hiking trails and shopping venues are located in the city of Pompano Beach.
Hillsboro Beach
Situated to the north of Pompano Beach, Hillsboro Beach is mainly a private beach, giving access mostly to those visitors staying in the hotels along the beach. Public access is limited to one point of access. If you are looking for a quieter beach location, Hillsboro Beach offers a less-crowded option due to its limited access. The Hillsboro lighthouse is located along the Hillsboro Inlet. Near the inlet, a statue stands to commemorate the barefooted mailman who served the area in the late 1800s.
Lauderdale-by-the-Sea
South of Pompano Beach, Lauderdale-by-the-Sea lies just north of the city of Fort Lauderdale. This beachside village offers visitors a pier that stretches out into the ocean and many restaurants located along the beach, including Bubba Gump Shrimp Company, Sea Watch Restaurant and Aruba Beach Cafe. Beachside hotels also dot the beaches, including Beachside Village Resort, Costa Del Sol Resort and Sea Spray Inn. Lauderdale-by-the-Sea is also home to one of the few coral reefs located off the Florida cost, offering snorkeling adventures to visitors.
Deerfield Beach
Northeast of Coconut Creek, Deerfield Beach features a fishing pier that extends out into the Atlantic Ocean, offering fishing access and views of the ocean and the surrounding beaches. Deerfield Island is located nearby and must be accessed by boat. Several restaurants are located along the beaches for a beachside dining experience, including Amante Italian Cuisine, J B's on the Beach and Ocean's 234. Visitors to the beach can also partake in typical beach activities, including building sand castles, swimming and beach volleyball.
Fort Lauderdale
Often used by college students as a spring break getaway, Fort Lauderdale contains seven miles of beaches. Because of the variety of people that come to these beaches, it is an ideal spot for people watching. In addition to the typical beachfront activities of swimming, sun bathing and surfing, visitors can walk along a brick-paved walkway that extends along the beach. A wide variety of restaurants, cafes, shops and entertainment is available along the seven miles of Fort Lauderdale's beachfront.
Photo Credits
Medioimages/Photodisc/Photodisc/Getty Images