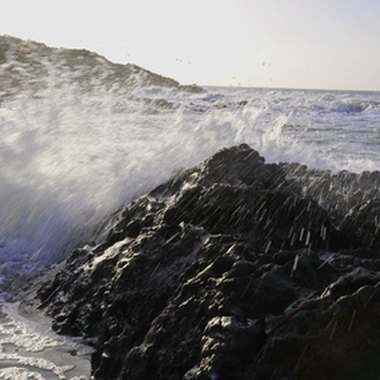 The warmer climate of Britain's West Country (principally Devon and Cornwall) attracts water sports enthusiasts to its beach-side hotels. Where beaches face big Atlantic tides, as in South Wales, or the colder North Sea waters of the east coast, beach hotels are less common. Some striking exceptions worth considering are positioned to take advantage of outstanding sea views.
A Private Beach in West Cornwall
Carbis Bay fills a sheltered bend in the North Cornwall coast, near St. Ives. Twenty-five acres of the mile-long Carbis Bay Beach are a private playground for guests of the Carbis Bay Hotel. Built in 1894 and now family run, the hotel was immortalized as "The Sands Hotel" by writer Rosamund Pilcher in her novels "The Shell Seekers" and "Winter Solstice." The hotel has 44 luxury rooms and suites, some with ocean-facing balconies. Single and interconnecting family rooms are available, as are cribs and foldaway beds.
Surf's Up in North Devon
The Woolacombe Bay Hotel is a sprawling late Victorian luxury hotel on three miles of golden sands at Woolacombe Beach. Woolacombe is an Atlantic-facing North Devon beach, sheltered by two National Trust headlands. It's known for long, breaking waves that are suitable for both experienced and novice surfers. The hotel has its own gated entrance to the beach. Rooms have simple but high-quality furnishings in a modern, seaside cottage style. Some sea-facing rooms have balconies.
A Natural Beauty in Wales
The Gower juts out into the Severn Straits west of Swansea in South Wales. Made the UK's first Designated Area of Outstanding Natural Beauty in 1956, the peninsula's flat golden beaches are protected from development, with large stretches owned by the National Trust. That puts the Oxwich Bay Hotel in the enviable position of being the only hotel beside the beach in the whole of the Gower. A private path from the hotel, at the western end of the beach, leads across 30 feet of lawn to the vast and virtually empty sands.
Fishermen's Huts in Kent
Whitstable in Kent faces Essex across the chilly waters of the Thames Estuary. Long noted for its oyster fishery, the village has a salty ambiance and narrow streets along the seafront. Its shingle beach is dominated by a large marina, filled with small pleasure craft and working fishing boats. The Continental Hotel, owned by the The Whitstable Oyster Fishery Company, is across a busy road from the town marina. But the hotel also has unusual accommodation right on the beach. Eight fisherman's huts and a boat building shed have been converted into modern accommodation for couples and families. The huts are a 10-minute walk from the hotel's main building, and each has its own parking.
Photo Credits
The Beautifil Gower image by Dinky Del from Fotolia.com