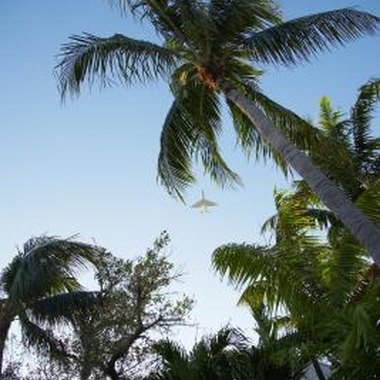 Unfurling like a white ribbon along the northwest coast of Florida, the Beaches of South Walton is a collection of 15 distinct beach communities that have joined together to create a destination paradise in the Gulf Coast of Florida's panhandle, between the larger cities of Destin and Panama City Beach. Referred to frequently as the Emerald Coast, the deep green waters and 26 miles of sugar-white beaches here draw thousands of visitors to the first-class resorts, hotels and inns that line the oceanfront.
Sandestin
The Sandestin Golf and Beach Resort is located in the Beaches of South Walton area, just outside of Destin. It is an enormous full-service resort that is self-sustained in every sense, with shops and restaurants, charter fishing, salons, three swimming pools and five separate neighborhoods. Located within this mega-complex of villas, cottages and condominiums is a luxurious Hilton Hotel. One wing of the property caters to business travelers with executive suites, while the older wing is geared toward families, providing separate bunk-bed areas. The hotel houses a sushi bar, a sand bar for cocktails, a bar-and-grill for casual dining, and a formal steak and seafood restaurant.
Seaside
The evolving community of Seaside is a mixture of permanent residents and seasonal visitors, with mostly pastel-colored cottages and miniature Southern styled mansions available to rent. An exception to that is the Inn By the Sea, a small elegant hotel created by the design team for Vera Bradley. Naturally, it's big on colors, fabrics and stylish furniture, with each room creating a distinctly decorated ambiance. The inn, as well as the entire community, was included in Travel+Leisure's list of 100 Greatest Trips for 2009.
Watercolor
Watercolor is a community of vacation homes spanning 499 acres in Grayton Beach, the oldest of the beach communities in this area. Much of the lodging here is vacation homes and cottages, but the WaterColor Inn is a boutique hotel on the grounds which offers rotunda rooms with expansive balcony views, as well as six bungalows. Watercolor has its own private beach club and supervised kid's activities. Almost 50 percent of the land at this resort is preserved as open space, with a 220-acre coastal dune lake where guests can canoe and fish.
Rosemary Beach
Rosemary Beach is a seaside village located about eight miles east of Seaside, at the end of County Road 30A. It consists of about 300 Pan-Caribbean-style bungalows and carriage houses that can be rented, but they also have a very small inn on the premises, called the Pensione. It has eight rooms available, very basic in style, but the front rooms have views of the Gulf waters across the street. It is just off the village's main square, and has a neighborhood cafe in the bottom floor. Children under the age of 16 are not allowed.
Photo Credits
Jupiterimages/Photos.com/Getty Images