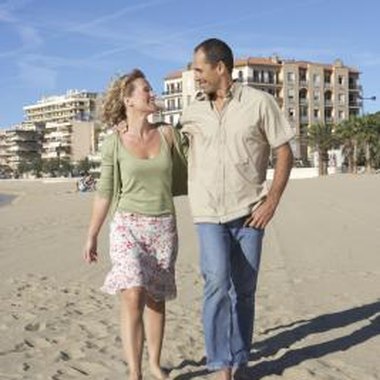 If you wish to stay on the beach in Virginia, you have two main options. Virginia Beach sits on 35 miles of waterfront, drawing guests who wish to spend their vacation soaking up the sand and sun. If you prefer a nature-based beach vacation, consider booking a hotel on Chincoteague Island, which allows you to spend your time searching for shells on the undeveloped Assateague Island National Seashore. Both areas have beachfront hotels for you to choose from.
Virginia Beach Chain Hotels
If you want to stay on the beach at Virginia Beach, you have many choices. As to chain hotels, Virginia Beach's Hilton, Residence Inn and Country Inn & Suites all sit on the beach. The Hilton encourages guests to play at the beach by offering boardwalk access, a beach-side pool and a beach playground. At the Residence Inn, the picnic area with barbecue grills also encourages outdoor activities, while an indoor pool with whirlpool gives guests options for the occasional rainy day. From the Country Inn & Suites you can walk to the boardwalk, and all the rooms have ocean views. The Residence Inn boasts furnished oceanfront balconies in all its guestrooms, and the suites have full kitchens and direct beach access.
Virginia Beach Resort Hotels
Virginia Beach also has several resort hotels that offer restaurants and a full range of recreation and entertainment options. At the Sandcastle Resort, you dine on a deluxe breakfast daily, while an on-site restaurant provides for your other meal needs. This resort has its own shopping mall. The Ocean Beach Club Resort boasts three seaside pools, a fitness center that overlooks the ocean and a game room for rainy days. At the Virginia Beach Resort Hotel, you can take advantage of complimentary bikes for hotel guests, play tennis in the on-site tennis club or relax with the entire family at the indoor/outdoor pool complete with whirlpool. All three of these hotels sit on the beach.
Affordable Virginia Beach Lodging
Staying on the beach here does not have to be expensive. Virginia Beach has a few affordable lodging options right on the beach. The Sea Gull Inn, for instance, is an oceanfront location, offering rooms as low as $60 in the off-season as of 2010. It has a sundeck, indoor pool with whirlpool, on-site restaurant and on-site bike rental. The Econo Lodge is a AAA Two Diamond hotel directly on the beach. All rooms have refrigerator, microwave and oceanfront private balcony. Rates at this hotel are as low as $65 in 2010, but jump significantly during the spring and summer months when crowds are at their peak.
Chincoteague Island Lodging
On Chincoteague Island, a spot made famous by Marguerite Henry's children's books about the island's ponies, you can stay on the beach in both chain hotels and local inns. At the Best Western Chincoteague Island, you will stay at the entrance to the Assateague Island National Seashore. Balconies in this hotel overlook the beach and the Assateague Lighthouse. This Best Western offers a pool, picnic tables and barbecue grills. The waterfront Comfort Suites has rooms with balconies overlooking the Chincoteague Channel and Bay. It has both an outdoor and an indoor pool in addition to a fitness center and arcade facility. For a more local hotel experience, consider staying in the waterfront Island Motor Inn. It has the largest outdoor swimming pool on the island in addition to an indoor pool and whirlpool. Every room has a private waterfront balcony, and the hotel maintains a private pier and garden for its guests.
Photo Credits
Rayes/Photodisc/Getty Images