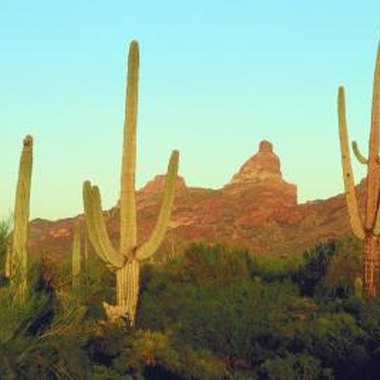 The state of Arizona takes a constitutional, right-to-bear-arms approach to gun ownership. This doesn't mean you can just fire away willy-nilly. Even if you're using a non-powder weapon like a BB, pellet or air gun, you'll need to follow the proper procedure, especially if you're planning a hunting expedition.
Purchase, Use
If you buy or keep an air gun in Arizona, you won't need to get it licensed, even if you carry it as a concealed weapon. If you want to practice with it on your property, ensure you've erected a sufficient backstop for your impromptu range. If you don't, you could be running afoul of local laws that are likely to forbid the firing of any firearms within city limits. Effective backstops are made of hay bales that will fully absorb your BBs and keep them off your neighbor's property.
License
You will need a license to go hunting for any animal in Arizona, with an air gun or any other type of firearm. Licenses are available from the Arizona Game and Fish Department (see Resources) for hunters 14 years of age or up without any training, and a special Hunter Education Course can be completed for younger shooters to get permitted as well. Any hunters under 18, however, must have adult supervision from a licensed hunter. A general hunting license cost $32.25 in 2011, $151.25 for nonresidents.
Alternative
A lifetime hunting license is available for ardent air gun hunters; over time it will save money and eliminate a yearly licensing requirement. The prices vary depending on your age. As of 2011, a lifetime license for just hunting will cost $425 for children up to 13; $450 for ages 14 to 29; $400 for ages 30 to 44; $375 for ages 45 to 61; and $200 for hunters 62 and older.
Good Hunting
To legally hunt in Arizona, you must be on either state-approved hunting grounds or property where the owners allow hunting with BB guns or any other weapon. Some of the smaller game the state allows to be hunted with BBs are pigeons, grouse, rabbit, pheasant, quail, cranes, squirrels and doves. Beyond the requirements for a hunting license, though, the state of Arizona isn't one of the approximately 25 states that regulate the purchase or use of air guns.
Photo Credits
NA/AbleStock.com/Getty Images