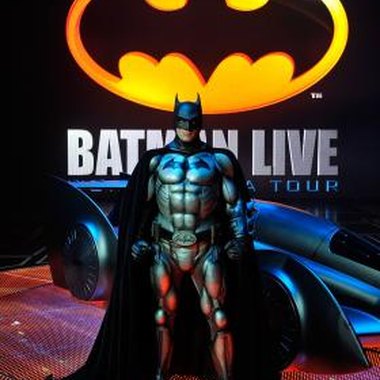 Many children, especially young boys, find Batman intriguing and entertaining. Along with the black and yellow color scheme, you can incorporate the superhero into the entire party. From the party invitations to the party games, create a successful party for your Batman-loving child. Give each child party favors, such as Batman-themed stickers, coloring books, punch balloons and figurines, to take home as mementos of the party.
Invitations
For a basic party invitation, print the yellow Batman emblem and tape it on black construction paper. Use a yellow paint pen to write the party details on the construction paper and mail to each guest. For added decoration, attach a small Batman figurine to each invitation and hand deliver to your guests. You can also find Batman comic strips to use as invitations. White out the words in the speech bubbles and make colored copies. Write the party details in the speech bubbles and mail to your guests.
Decorations
Decorate the entire party area in Batman-themed party decorations and tableware. If you do not have Batman-themed decorations, use solid-colored black and yellow decorations. Use a large toy Batman as a balloon centerpiece for the party table. Hang Batman posters, cobwebs and plastic bats on the walls, as well as from the ceiling. Enlarge comic strips, Batman emblems and pictures of Batman to hang on the walls.
Activities
As each guest arrives to the party, have an older teen paint his face like Batman. Apply Batman-themed temporary tattoos to any guest who wants them. For an easy activity, print Batman coloring pages. Tell the children to color the pictures using markers, crayons and paint. Create a "bat cave" using large appliance boxes. Lay the boxes on their sides (open at both ends) and tape all the boxes together, making one large tunnel. Paint the outside black and drape black tablecloths on both open ends. Cut a slit in the tablecloths. Children who want to can crawl through the "bat cave" to enter the party.
Games
Create a Batman relay race by dividing the players into two teams. Mark a starting line and a run-to line 20 feet apart. Have both teams line up at the starting line and give the first player in each team line a Batman costume. When you say "Go," the first player in line must put on the costume, and race to the run-to line and back to hand the costume to the next player in line. Each player must put on the costume, then race to the line and back. The first team to finish the race wins the game. For another game, put a twist on the classic game hot potato with a game of hot Batman. Play with a Batman toy and the winner will win the toy to take home.
Photo Credits
Gareth Cattermole/Getty Images Entertainment/Getty Images