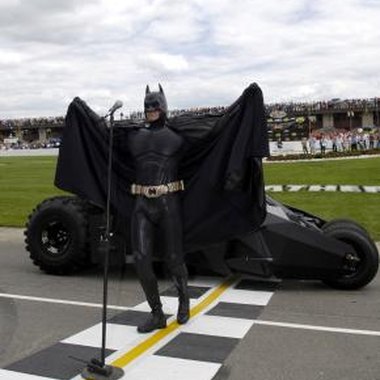 If you have a child who loves Batman, incorporate the comic book superhero into his birthday party. Batman-themed birthday parties lend themselves to a variety of food ideas. From the appetizers to the desserts, using Batman and his friends, as well as a few villains, to decorate the party food will create a memorable party for all the guests.
Appetizers
Make a Mr. Penguin chip and dip tray by filling a black plastic top hat with ranch dip. Place a bowl of chips beside the tray. Decorate the area between the bowl and hat with a bubblegum cigar and a pair of white gloves. Prepare "bats in a blanket" by slicing hot dog wieners into thin slices and wrapping them with croissant rolls. Serve with mustard and ketchup. Another idea is "power bar sandwiches," which are peanut butter and jelly sandwiches cut into small squares.
Drinks
Create transforming drinks by making a tray of colored ice cubes the night before the party. Use food coloring or flavoring drink mixes to make the colored ice cubes. When you serve the children lemon-lime soda with the colored ice cubes, it will "transform" their drinks. Make labels that say "Batman's Power Punch" and tape them to small sports drink bottles for the children. If you want to make a large punch bowl drink, pour grape soda into a punch bowl and add several packets of candy popping rocks to create "Batman's Purple Power."
Main Dishes
Use a bat-shaped cookie cutter to make bat pizzas and sandwiches. Allow the children to make their own bat-shaped miniature pizzas. Give each child two pieces of bat-shaped pizza dough. Have them add toppings, such as pepperonis, pizza sauce, cheese, hamburger pieces, olives, peppers and Canadian bacon. For added fun, tell the children to try to shape their toppings into the Batman emblem. Make "Bat Wings" by tossing chicken wings in barbecue sauce and black food coloring.
Desserts
Place bowls of gummy penguins and bats on the party table. Use the Batman emblem on the birthday cake or make cupcakes with the emblem. Make cups of Catwoman Chow by tossing snack mix in powdered sugar. Serve Mr. Freeze's ice cream and make an ice cream topping bar for the guests. Guest can add toppings like Catwoman's cherries, Batman's gummy bats, nuts, whipped cream and Robin's round candies. Other dessert ideas include cookies with icing in the shape of question marks and Joker's gelatin jigglers.
Photo Credits
Rusty Jarrett/Getty Images Sport/Getty Images