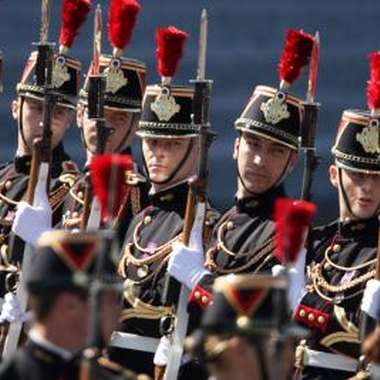 Bastille Day is the French National Day, held every year on July 14 to commemorate the storming of the Bastille prison in 1789. The event sparked the French Revolution and the subsequent development of the country into a Republic, followed by the establishment of modern Democracies in the rest of Europe. The day traditionally is celebrated with military parades all over the country, with the most prominent being the parade in the capital, Paris.
Historical Moments
In 1880, following the establishment of the Third Republic, July 14 was pronounced the National Day in France and the tradition of the Military Parade was established. The tradition was kept alive, but with significantly reduced forces, throughout World War I. During World War II, the occupying German forces in Paris did parades on July 14, while the commando Kieffer, a group of exiled French military leaders, held their parades in the streets of London. In 1971 women were allowed to join the parade for the first time .
Military Divisions
Traditionally, the parade starts with a show by an air regiment, followed by the cadets of the Polytechnic School of the Military, who lead the parade on foot. After various military and police academy cadets, members of the navy divisions will walk down the Champs Elysees, followed by the Army, the Marines and the Air Force. Included in the parade are also various military vehicles, such as tanks, cars and motorcycles. The parade is always concluded by various divisions of the French Foreign Legion.
Route
The parade traditionally follows the same route every year, apart from a disruption under president Giscard d'Estaing, who changed the journey throughout the 1970s to keep it more in accordance with the path the revolutionaries took during the storm on the Bastille in 1789. Following a ceremony at the starting point at the Arch of Triumph to honor the French president, the parade passes down the Champs Elysees to the Place de la Concorde. There it is received by the French government, the French Prime Minister, foreign dignities and the ambassadors of the nations represented in the French diplomatic circles. The parade then disbands. The event is broadcast nationwide and online.
International Participation
While the Bastille Day Parade initially is a French event, the successful popular uprising against the monarchy in 1789 had a wide international effect. The principles of freedom, equality and fraternity spread throughout Europe and became the basis of Democratic systems. In accordance with the international importance of the French Revolution, the French government regularly invites troops from other countries to participate in, or even lead, the parade in front of the cadets of the Polytechnic School of the Military. In 2002, the honor of leading the parade was given to the cadets of the United States Military Academy at West Point.
Photo Credits
Francois Durand/Getty Images News/Getty Images